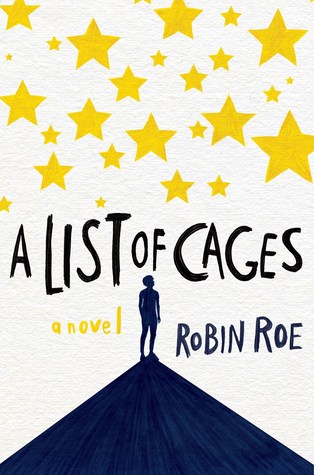 How did I get it?:
I bought it!
Synopsis:
When Adam Blake lands the best elective ever in his senior year, serving as an aide to the school psychologist, he thinks he's got it made. Sure, it means a lot of sitting around, which isn't easy for a guy with ADHD, but he can't complain, since he gets to spend the period texting all his friends. Then the doctor asks him to track down the troubled freshman who keeps dodging her, and Adam discovers that the boy is Julian—the foster brother he hasn't seen in five years.
Adam is ecstatic to be reunited. At first, Julian seems like the boy he once knew. He's still kindhearted. He still writes stories and loves picture books meant for little kids. But as they spend more time together, Adam realizes that Julian is keeping secrets, like where he hides during the middle of the day, and what's really going on inside his house. Adam is determined to help him, but his involvement could cost both boys their lives…
Thoughts:
I had this book on my radar for 2017 but for some reason I never got around to it. I heard such amazing things about it, but you know what the life of a bookworm is like. Sometimes it's hard to get around to every book. So I'm making it my mission this year to catch up on some debut releases from 2017.
I read A List Of Cages in early March and I thought it was a simply incredible book. I will warn you that it is intense. I wasn't expecting that. I feel like I need to say that there is heavy abuse in this story, so if that is something that would be too much for you, then perhaps this book won't be for you. If you can manage to read this book, even with a heavy heart, I do think this book is really worth a read.
It's a book about Adam and Julian. Adam is a popular boy at his school. He has ADHD and finds sitting still a challenge. He becomes an aide for the school psychologist. He has to track down a peer that is completely avoiding the school psychologist. Adam realises that it's Julian, a younger boy who used to be fostered by Adam's family. Adam grows closer to Julian once again, but Julian is hiding massive secrets which will soon come to the forefront.
As expected, this book is not necessarily an easy read. It's incredibly hard to read due to the abuse involved in the story. It absolutely tore at my heart. I was desperate for Julian to find happiness. I also loved how Adam, despite being four years older, was completely there for Julian. It was the sweetest and most genuine friendship.
Dual narratives don't always work for me, but in this book they are perfect. I could get a sense of the characters from their points of view. They were so incredibly different. Adam was the life and soul. Mr Popular. Julian was deeply affected by his past and his current home situation. He was timid and withdrawn. I loved how Robin Roe portrayed Adam and Julian's characters. Their friendship is one of the best I have ever read.
I also appreciated how the characters didn't find school easy. Adam struggled with his ADHD and Julian struggled academically. I wasn't overly impressed with how the educators in the story dealt with their struggles, but hey, you can't win them all! Being a teacher myself it's something that does grate on me.
This book doesn't hold back any. It is raw, brutally honest and heart-breaking. Yet, there's something hopeful about the future for these characters. Highly recommended!
Would I recommend it?:
Without a doubt!
Stunning writing. A wonderful albeit hard to read book!