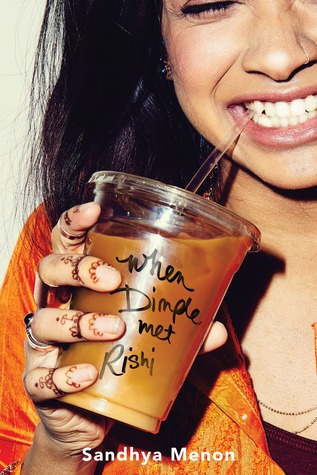 How did I get it?:
I bought it!
Synopsis:
Dimple Shah has it all figured out. With graduation behind her, she's more than ready for a break from her family, from Mamma's inexplicable obsession with her finding the "Ideal Indian Husband." Ugh. Dimple knows they must respect her principles on some level, though. If they truly believed she needed a husband right now, they wouldn't have paid for her to attend a summer program for aspiring web developers…right?
Rishi Patel is a hopeless romantic. So when his parents tell him that his future wife will be attending the same summer program as him—wherein he'll have to woo her—he's totally on board. Because as silly as it sounds to most people in his life, Rishi wants to be arranged, believes in the power of tradition, stability, and being a part of something much bigger than himself.
The Shahs and Patels didn't mean to start turning the wheels on this "suggested arrangement" so early in their children's lives, but when they noticed them both gravitate toward the same summer program, they figured, Why not?
Dimple and Rishi may think they have each other figured out. But when opposites clash, love works hard to prove itself in the most unexpected ways.
Thoughts:
I have had this book on my TBR for what feels like forever. I have read so many positive things about it, but was yet to get around to it. I decided that on my Easter break from school that I'd tackle some books I'd been wanting to read for a while. That I did. When Dimple Met Rishi is a super cute contemporary read. I devoured it within 24 hours!
When Dimple Met Rishi is told from Dimple and Rishi's point of view. It centres around Dimple who wants to go to university and not search for that ideal Indian husband that her traditional parents are determined for her to marry. She wants to develop an app and work with the best in the business. Rishi and Dimple both end up going to a coding camp. What Dimple doesn't know is that Rishi is Dimple's proposed partner. The reason why Dimple's parents agreed for her to go was so she could meet him. Dimple and Rishi do not get off to the best start but as they begin to get to know each other, feelings change. Dimple does know she's not ready for a long term relationship, she has career goals and doesn't want to be 'domestic'.
I thought this was an adorable book. I loved the story-line and whilst it was a little bit predictable (to be fair, most contemporary YA books are) it was so cute. I loved both Dimple and Rishi. I love it when you adore both characters in a story, especially when their story is told through their points of view. I didn't find myself skipping one chapter because it was a certain character. I wanted to get to know them more and more. I loved that they were both super geeky.  I also loved how Rishi was passionate about his heritage. He reminded me of one of my best friends.
I wasn't sure that I was going to like the arranged marriage part of this story. All too often, I read negativity around arranged marriages. This was definitely a more positive take. Even though Dimple's mum was desperate for her daughter to get married and comply, Dimple was never forced. I appreciated that.
Despite this book being predictable, it was so well written and definitely gave me a warm feeling whilst reading it. I look forward to reading more from Sandhya Menon!
Would I recommend it?:
Of course!
This is such a sweet contemporary YA read. I highly recommend it!