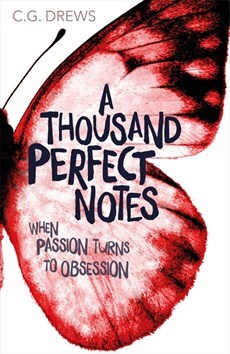 How did I get it?:
Netgalley- many thanks to Hatchette Children's books
Synopsis:
Beck hates his life. He hates his violent mother. He hates his home. Most of all, he hates the piano that his mother forces him to play hour after hour, day after day. He will never play as she did before illness ended her career and left her bitter and broken. But Beck is too scared to stand up to his mother, and tell her his true passion, which is composing his own music – because the least suggestion of rebellion on his part ends in violence.
When Beck meets August, a girl full of life, energy and laughter, love begins to awaken within him and he glimpses a way to escape his painful existence. But dare he reach for it?
Thoughts:
I don't even know where to begin with this book because it's just THAT GOOD. Yes. THAT GOOD. It deserves the capitals. I feel like this review should come with a massive trigger warning because its content is incredibly intense. Beck, our main character, suffers abuse at the hands of his violent mother. This story tore my heart into shreds and moved me… in less than 300 pages. C.G Drews is certainly a talented writer. I can't believe this is her debut. I'm going to try and write a sensible and coherent review but I may struggle… just saying.
A Thousand Perfect Notes centres around Beck who is an incredibly beautiful character. He hates his life because of his simply horrific mother who he names Maestro. Maestro is violent towards him and also emotionally abusive. She forces him to play the piano for hours upon hours because she wants him to be as good as she was at the piano before illness stole her talent from her. She was once famous across the word for her talents and she's determined that he'll continue her legacy, no matter the cost. I'm actually tearing up at the thought of the story and the terrible situations Beck was in. Beck does enjoy music, but he prefers to create his own music. Any mention of this to his mother ends violently. Added to this complex family situation, is a young sister, Joey, who he wants to protect. She sees her big brother being hit and has become violent herself at pre-school. (Heart-breaking once more… thanks Cait!) Beck is paired with a girl named August for a school project. She brings joy into his life and encourages him (without even knowing it) to stand up for himself and get away from the violence at home.
This book really is exceptional. I was immediately drawn into the story and although the subject matter is incredible tense and heart-breaking it still made me flick through the pages quickly, desperately wanting a release from such an awful life for Beck. I grew so attached to Beck and his sister Joey. I was infuriated at his school for not picking up more signs. I absolutely loathed his mother. Of course, I felt sorry for her that she had lost her passion due to illness, I'm not that cold-hearted. However, Beck and Joey did not deserve a mother that didn't know how to be a mother.
I adored August. She was a shining light for Beck and Joey and alongside her beautiful family, she gave Beck hope to stand up for himself. I loved how Beck and August's relationship was a slow burning romance. I love a slow burning romance because it's much more realistic.
I have to be honest and say I was worried about reading this book because of the hype surrounding it. I've followed and adored the author's blog for several years now and wondered what her writing would be like. I needn't have worried because the book was simply divine! Easily one of my favourite reads of 2018 so far!
Would I recommend it?:
Without a doubt!
A wonderful debut! One of my favourites of the year so far.