I mainly had hits in the month of May with only one book not read from my TBR list. June is a busy month at my work, so I'm not expecting too much from my June reading. Of course, there are some of my usual reads for the regular feature that I do and some June ARCs that I will have out as well.
Here's my tentative TBR list for June! Thanks to Tina over at Reading Between The Pages for hosting!
(Book images go to Goodreads!)
Days Of Wonder- Keith Stuart
Goodreads Synopsis:
Tom, single father to Hannah, is the manager of a tiny local theatre. On the same day each year, he and its colourful cast of part-time actors have staged a fantastical production just for his little girl, a moment of magic to make her childhood unforgettable.
But there is another reason behind these annual shows: the very first production followed Hannah's diagnosis with a heart condition that will end her life early. And now, with Hannah a funny, tough girl of fifteen, that time is coming.
Hannah's heart is literally broken – and she can't bear the idea of her dad's breaking too. So she resolves to find a partner for Tom, someone else to love, to fill the space beside him.
While all the time Tom plans a final day of magic that might just save them both.
I am really looking forward to reading this book after thoroughly enjoying Keith Stuart's debut.
The Weight Of A Thousand Feathers- Brian Conaghan
Goodreads Synopsis:
`Child experts will tell you that I'm way too young to carry such a burden of responsibility on my tender shoulders. But really, what do they know?' Who is Bobby Seed? He's just your average sixteen-year-old – same wants, same fears, same hang-ups. Dull, dull, dull. But then there's the Bobby Seed who's a world away from average. The Bobby Seed who has to wipe his mum's backside, sponge her clean three times a week, try to soothe her pain. The Bobby Seed whose job it is to provide for his younger brother, Danny, to rub his back when he's stressed and can only groan and rock instead of speak. That's Bobby Seed. Same, same, same, yet different, different, different …
I am so intrigued by this book. I have read another by Brian Conaghan and was impressed!
The Dead Ex- Jane Corry
Goodreads Synopsis:
He said in sickness and in health. But after Vicki was attacked at work and left suffering with epilepsy, her husband Daniel left her for his mistress.
So when Vicki gets a call one day to say that he's gone missing, her first thought is 'good riddance'. But then the police find evidence suggesting that Daniel is dead. And they think Vicki had something to do with it.
What really happened on the night of Daniel's disappearance? 
And how can Vicki prove her innocence, when she's not even sure of it herself?
I enjoy Jane Corry's writing. I am eagerly anticipating this one!
The Face On The Milk Carton- Caroline B. Cooney
Goodreads Synopsis:
The face on the milk carton looks like an ordinary little girl: hair in tight pigtails, a dress with a narrow white collar, a three-year-old who was kidnapped more than twelve years ago from a shopping mall in New Jersey.
As fifteen-year-old Janie Johnson stares at the milk carton, she feels overcome with shock. She knows that little girl is she. But how could it be true?
Janie can't believe that her loving parents kidnapped her, until she begins to piece together clues that don't make sense. Why are there no pictures of Janie before she was four? Her parents have always said they didn't have a camera. Now that explanation sounds feeble. Something is terribly wrong, and Janie is afraid to find out what happened more than twelve years ago.
In this gripping page-turner, the reader will unravel — as Janie does — the twisted events that changed the lives of two families forever.
I have had this book on my radar for some years now, but I never got around to it. Hence it being on this month's Beth and Chrissi Do Kid-Lit Challenge. 
Brave New World- Aldous Huxley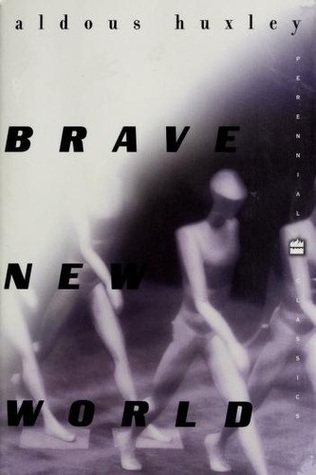 Goodreads Synopsis:
Far in the future, the World Controllers have created the ideal society. Through clever use of genetic engineering, brainwashing and recreational sex and drugs, all its members are happy consumers. Bernard Marx seems alone harbouring an ill-defined longing to break free. A visit to one of the few remaining Savage Reservations, where the old, imperfect life still continues, may be the cure for his distress…
Huxley's ingenious fantasy of the future sheds a blazing light on the present and is considered to be his most enduring masterpiece.
Can you believe I've never read this book? I'm looking forward to it as part of the Banned Books feature that I do with Beth every last Monday of the month.
Have you read any of these books? What did you make of them? Let me know!