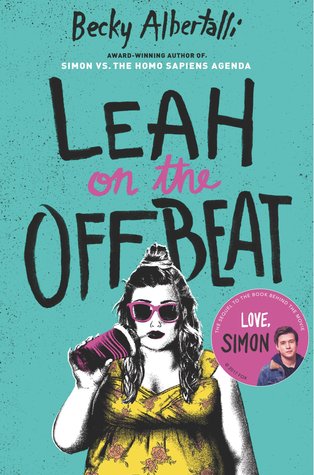 How did I get it?:
I bought it!
Previously reviewed by the same author:
Simon Vs The Homo Sapiens Agenda
The Upside Of Unrequited
Synopsis:
Leah Burke—girl-band drummer, master of deadpan, and Simon Spier's best friend from the award-winning Simon vs. the Homo Sapiens Agenda—takes center stage in this novel of first love and senior-year angst.
When it comes to drumming, Leah Burke is usually on beat—but real life isn't always so rhythmic. An anomaly in her friend group, she's the only child of a young, single mom, and her life is decidedly less privileged. She loves to draw but is too self-conscious to show it. And even though her mom knows she's bisexual, she hasn't mustered the courage to tell her friends—not even her openly gay BFF, Simon.
So Leah really doesn't know what to do when her rock-solid friend group starts to fracture in unexpected ways. With prom and college on the horizon, tensions are running high. It's hard for Leah to strike the right note while the people she loves are fighting—especially when she realizes she might love one of them more than she ever intended.
Thoughts:
I was so excited to read this book, especially after loving Simon so much. I did approach it with some trepidation though. As I often do when I hype books so much. Pffft, why do I do it? That said, this book was not a disappointment to me at all. I really enjoyed it and thought it was an awesome addition to Simon's world. I had some moments when I actually laughed out loud. Although Simon features, this is definitely Leah's story and I was totally okay with that.
Leah On The Offbeat explores Leah's feelings towards one of her friends. Like Simon in the previous book, Leah hasn't yet come out. She's bisexual and doesn't feel ready to tell this to the world. She's not as brave as Simon was. The characters are now in their senior year of high school and thinking about moving on to college, making some important decisions for the future.
I loved Leah in her own story. I thought she was funny and completely true to herself. I loved her sarcasm and how she was quite moody. She was blunt about her own weight and discussed how many people equate skinny to pretty even if they don't intend to.

Leah, Simon and their group of friends are so fun to follow. They are such an easy group of friends to root for. I love how Becky Albertalli's books deal with real issues but essentially they are books that uplift you and give your some joy despite the doom and gloom that real life can bring sometimes.
You don't need to have read Simon to read this book, but it'll enhance your experience if you do!
Would I recommend it?:
Of course!
Whereas it didn't quite match my beloved Simon, it was still a decent read that I quickly devoured!