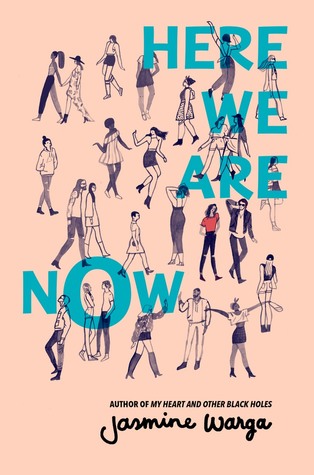 How did I get it?:
I bought it!
Previously reviewed by the same author:
My Heart and Other Black Holes
Synopsis:
Despite sending him letters ever since she was thirteen, Taliah Abdallat never thought she'd ever really meet Julian Oliver. But one day, while her mother is out of the country, the famed rock star from Staring Into the Abyss shows up on her doorstep. This makes sense – kinda – because Julian Oliver is Taliah's father, even though her mother would never admit it to her.
Julian asks if Taliah if she will drop everything and go with him to his hometown of Oak Falls, Indiana, to meet his father – her grandfather – who is nearing the end of his life. Taliah, torn between betraying her mother's trust and meeting the family she has never known, goes.
With her best friend Harlow by her side, Taliah embarks on a three-day journey to find out everything about her 'father' and her family. But Julian isn't the father Taliah always hoped for, and revelations about her mother's past are seriously shaking her foundation. Through all these new experiences, Taliah will have to find new ways to be true to herself, honoring her past and her future.
Thoughts:
I was super excited to read this book after really enjoying Jasmine Warga's debut novel. However, I think I went into reading it with my expectations a little too high. I did enjoy reading it, but I didn't think it was anything overly remarkable. It's a gentle story, that is so easy to read. It's just not one that stands out for me. A week or so after reading it, many details have escaped me.
Here We Are Now centres around Taliah who is a white/Arabic teen who lives with her mum. She's never met her father. Taliah believes that her father is the rockstar Julian Oliver. She sends many letters to him, trying to reach out. She doesn't hear anything back, until one day he turns up at her door to tell her that she was correct. He also wants to take her to meet his family including his dying father. Taliah goes with him whilst her mum is away. She's desperate to find out more about her family and her mother and father's past. Then her mum finds out where she is and the past begins to unravel…
The characters in this book are quite easy to follow and root for. However the main thing that I enjoyed about this book was the family element. I do like to read about families that aren't your stereotypical All American family.  The slight romance didn't really work for me in this book. I don't think it had enough time to be explored and I was totally more interested in Taliah's family not the romance. It just fell a little flat for me. I think I didn't believe in the romance because it wasn't deeply connected to the plot. I don't know. It just didn't work for me.
I loved how diverse this book was. You have some LGBT characters within the story, but the fact that they are gay is never made a big deal of. They're just there and accepted and that's how it should be. I also appreciated the inclusion of interracial relationships. I'm all for diversity, especially in YA literature.
Would I recommend it?:
Yes!
A subtly sweet story, but not one that will stay with me for a long time!