I read some fabulous books in June. The only disappointment for me was Brave New World which I didn't like as much as I wanted to.
Here's my tentative TBR list for July! Thanks to Tina over at Reading Between The Pages for hosting!
(Book images go to Goodreads!)
In The Dark-Cara Hunter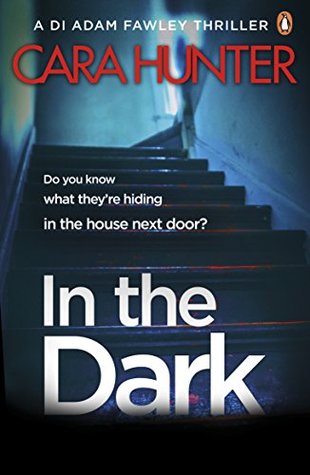 Goodreads Synopsis
No one knows who they are – the woman can't speak, and there are no missing persons reports that match their profile. And the elderly man who owns the house claims he has never seen them before.
The inhabitants of the quiet Oxford street are in shock – how could this happen right under their noses? But DI Adam Fawley knows that nothing is impossible.
And that no one is as innocent as they seem . . .
I have been eagerly anticipating this book for a while, but wanted to wait until nearer release time. I can't wait to read it!
The Silent Sister- Shalini Boland
Goodreads Synopsis
When Lizzy Beresford discovers a threatening letter addressed to her, the words on the old, tattered paper chill her to the bone. But who sent it? Living in pretty cottage in a quiet country village, Lizzy's never made any enemies in her life… 
Except her sister. 
Lizzy hasn't spoken to Emma in years. Not since the argument which tore their relationship apart. Would her sister really want to cause her harm after all this time? 
As Lizzy receives more disturbing messages, she begins to doubt those closest to her – her boyfriend, her best friend, her neighbours. 
Because the mystery sender seems to know everything about her. And after a series of malicious incidents, it's clear they won't stop until they've destroyed her life. 
Lizzy knows she must confront her sister. But can she trust her? And will she realise the shocking truth, before it's too late?
Ooh another thriller. I love my thrillers and this one sounds fab!
Toxic- Nicci Cloke
Goodreads Synopsis:
Hope has never been happier. She's on her way to Crete, after a group of her friends have made her an honorary 'lad' and let her tag along on their boys' holiday. There's a slight complication in that one of those boys, Logan, is Hope's ex-boyfriend, but they're still friends and Hope's pretty confident it won't be too awkward.
The next couple of days are exactly what Hope was hoping for – lazy days in the sun, and long, drunken conversations. She can't help but notice that Logan's flirting with her. Logan and Hope end up alone and Hope is horrified when, after she leans in to kiss him, Logan completely rejects her.
Embarrassed and annoyed, Hope is on a mission to get drunk, and with the alcohol flowing, and the sun going down, Hope's starts having a great time.
The next thing Hope knows, she's being woken up on the beach by two strangers. It's 9 o'clock the next morning and she can't remember anything about the previous night . . . what on earth happened?
Looking forward to this one! 🙂
Julie Of The Wolves- Jean Craighead George
Goodreads Synopsis:
Miyax, like many adolescents, is torn. But unlike most, her choices may determine whether she lives or dies. At 13, an orphan, and unhappily married, Miyax runs away from her husband's parents' home, hoping to reach San Francisco and her pen pal. But she becomes lost in the vast Alaskan tundra, with no food, no shelter, and no idea which is the way to safety. Now, more than ever, she must look hard at who she really is. Is she Miyax, Eskimo girl of the old ways? Or is she Julie (her "gussak"-white people-name), the modernized teenager who must mock the traditional customs? And when a pack of wolves begins to accept her into their community, Miyax must learn to think like a wolf as well. If she trusts her Eskimo instincts, will she stand a chance of surviving?
Okay, I haven't read this book before. It's on the Banned Books list and I'm confused. Why? I can't wait to read it for the Banned Books feature and see if I can work it out.
Murder Most Unladylike- Robin Stevens
Goodreads Synopsis:
Deepdean School for Girls, 1934. When Daisy Wells and Hazel Wong set up their very own deadly secret detective agency, they struggle to find any truly exciting mysteries to investigate. (Unless you count the case of Lavinia's missing tie. Which they don't, really.)
But then Hazel discovers the Science Mistress, Miss Bell, lying dead in the Gym. She thinks it must all have been a terrible accident – but when she and Daisy return five minutes later, the body has disappeared. Now the girls know a murder must have taken place . . . and there's more than one person at Deepdean with a motive.
Now Hazel and Daisy not only have a murder to solve: they have to prove a murder happened in the first place. Determined to get to the bottom of the crime before the killer strikes again (and before the police can get there first, naturally), Hazel and Daisy must hunt for evidence, spy on their suspects and use all the cunning, scheming and intuition they can muster. But will they succeed? And can their friendship stand the test?
I'm excited about this book. I'm reading it for my Kid-Lit feature! I've heard a lot of good things.
Have you read any of these books? What did you make of them? Let me know!