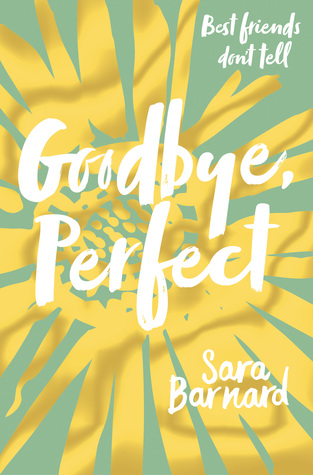 How did I get it?:
I bought it!
Previously reviewed by the same author:
Synopsis:
Eden McKinley knows she can't count on much in this world, but she can depend on Bonnie, her solid, steady, straight-A best friend. So it's a bit of a surprise when Bonnie runs away with the boyfriend Eden knows nothing about five days before the start of their GCSEs. Especially when the police arrive on her doorstep and Eden finds out that the boyfriend is actually their music teacher, Mr Cohn.
Sworn to secrecy and bound by loyalty, only Eden knows Bonnie's location, and that's the way it has to stay. There's no way she's betraying her best friend. Not even when she's faced with police questioning, suspicious parents and her own growing doubts.
As the days pass and things begin to unravel, Eden is forced to question everything she thought she knew about the world, her best friend and herself. 
Thoughts:
Sara Barnard is a fabulous writer and I've enjoyed her books in the past, so I was looking forward to reading Goodbye, Perfect. I didn't read the synopsis before I started this book, or even before I bought it. I just thought it was Sara Barnard so I was bound to enjoy it. I'm sad to say that I had really mixed feelings about this book. Partly because it was about a teacher-student relationship. As a teacher, that doesn't sit right with me. Ever.
Goodbye, Perfect is all about Eden's good friend Bonnie, who runs away with the music teacher at school. Eden is the only one that knows where she is. She's torn between being loyal to her best friend and between doing the right thing. Eden starts to question everything and wonders if she, herself, could bring Bonnie home.
I liked some of the relationships in this story. I loved that Eden was so close with her biological sister, Daisy. I also appreciated that there was representation of post adoptive children. I truly believe that all kinds of families should be represented. Especially in YA literature. There was also a totally healthy relationship between Eden and her boyfriend Connor. Connor was an adorable character but I also loved how he was a carer for his poorly mother. Again, another tick for representation in Sara Barnard's books.
For me, the plot wasn't exciting enough. I didn't enjoy the teacher-student relationship. I thought that the plot dragged with nothing really to move it along.
Don't let my somewhat lukewarm review put you off this author though. She is usually fabulous and this book is an okay read. It just wasn't what I expected.
Would I recommend it?:
Yes!
An easy to read book, but not one that is full of action!