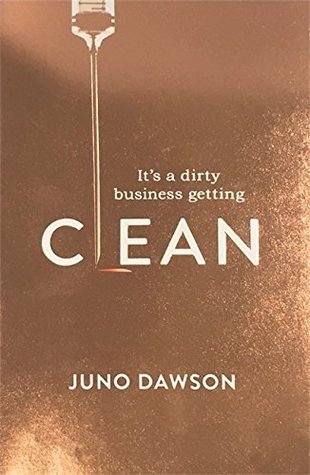 How did I get it?:
I bought it!
Synopsis:
I can feel it swimming through my veins like glitter … it's liquid gold.
When socialite Lexi Volkov almost overdoses, she thinks she's hit rock bottom.
She's wrong. Rock bottom is when she's forced into an exclusive rehab facility.
From there, the only way is up for Lexi and her fellow inmates, including the mysterious Brady.
As she faces her demons, Lexi realises love is the most powerful drug of all …
It's a dirty business getting clean …
Previously reviewed by the same author:
Thoughts:
Hmm. I had heard mixed reviews before starting this book. I really thought it was going to be another 5 star read as so often Juno Dawson's books are. However, it's not a 5 star read for me. It's a 3 star. Just. Before going into this book, please be aware that there are massive trigger warnings. It's a book about addicts. There's bound to be something that will trigger others. It totally doesn't mean it should be avoided or not written about. I just think if you're ultra sensitive maybe steer clear.
Clean begins with Lexi's brother Nikolai taking her to an exclusive rehab centre. Nikolai had found his sister almost comatose after a drug binge. The rehab centre looks amazing, like a luxury holiday on an exclusive island. However, Lexi isn't going to find the 'break' easy. No alcohol and definitely no drugs. Lexi has been taking the hard stuff. As a socialite she is able to fund the habit and her boyfriend's habit too. Coming off the drugs is brutal. Juno Dawson doesn't hold back as she documents Lexi's road to recovery. As Lexi becomes clean she meets many peers all under the age of 25 whose issues include anorexia, overeating, sex addiction and substance abuse.
I think something that is important to mention is that Clean doesn't glamorise drug use. It shows it to be an awful, ugly addiction which can change your mindset and seriously affect your health and your relationships. There are some incredibly mature themes so I definitely would say this book is towards the end age range of YA.
Part of this reason why I didn't enjoy this book as much as I wanted to, was that I found Lexi completely insufferable. I couldn't relate to her whatsoever. Whilst I did feel some sympathy for what she had gone through, I didn't really connect with her. I often just rolled my eyes when she said or did certain things. I also thought some of the language was unnecessary. I get it, in points, it's needed but I personally thought that some of the language was banded about for the shock value.
P.S. That cover will never be 'Clean' from my fingerprints #bookwormstruggles
Would I recommend it?:
Yes- with caution.
Not what I expected, but definitely a raw and uncomfortable read!