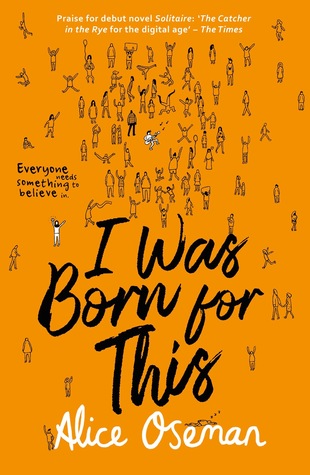 How did I get it?:
I bought it!
Previously reviewed by the same author:
Solitaire
Radio Silence
Synopsis:

For Angel Rahimi, life is only about one thing: The Ark – a pop-rock trio of teenage boys who are currently taking the world by storm. Being part of The Ark's fandom has given her everything – her friendships, her dreams, her place in the world.
Jimmy Kaga-Ricci owes everything to The Ark too. He's their frontman – and playing in a band is all he's ever dreamed of doing. It's just a shame that recently everything in his life seems to have turned into a bit of a nightmare.
Because that's the problem with dreaming – eventually, inevitably, real life arrives with a wake-up call. And when Angel and Jimmy are unexpectedly thrust together, they will discover just how strange and surprising facing up to reality can be.
Thoughts:
I went into this book with very high expectations after particularly enjoying Radio Silence by Alice Oseman previously.
I Was Born For This centres around Angel Rahimi who is a massive fan of the band The Ark. The Ark are three teenage guys who are exploding around the world. Angel is a super fan. She goes to London to meet someone named Juliet who she met online. Angel and Juliet have tickets for a meet and greet and the show. Angel is completely obsessed with the band. They are her reason for living. The meet up/gig doesn't go as expected and Angel's perception of the band is completely thrown up into the air.
The story is told through two narratives, Angel's and Jimmy, a member of The Ark. Jimmy suffers with severe anxiety, having been thrust into the spotlight. He had been outed for being transgender. Although his fans had been incredibly supportive, it still added to his anxieties.
I really enjoyed the story because I've been a part of a few fandoms in my time (I sound like a Grandma!) and I could recognise a lot of the behaviours including 'shipping' of band members together. That's such a thing and makes the story utterly relatable. I also really enjoyed how Alice Oseman represented the idea that we think we know someone but until we meet them in person and get to know them, we never truly 'know' them.
There are some fantastic characters within these pages. I loved Angel, Juliet, Bliss and the band members. I thought the portrayal of Jimmy's mental health was incredibly realistic. Alice Oseman writes well from the perspective of a teenager.
Would I recommend it?:
Of course!
If you've ever been part of a fandom, you need to check out this book!