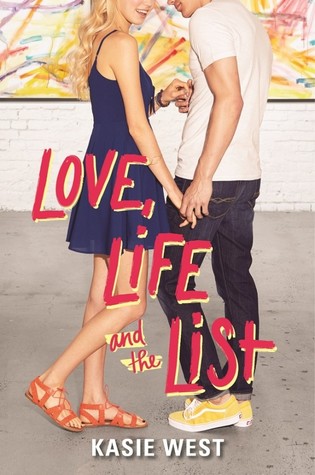 How did I get it?:
I bought it!
Previously reviewed by the same author:
Synopsis:
Seventeen-year-old Abby Turner's summer isn't going the way she'd planned. She has a not-so-secret but definitely unrequited crush on her best friend, Cooper. She hasn't been able to manage her mother's growing issues with anxiety. And now she's been rejected from an art show because her work "has no heart." So when she gets another opportunity to show her paintings Abby isn't going to take any chances.
Which is where the list comes in.
Abby gives herself one month to do ten things, ranging from face a fear (#3) to learn a stranger's story (#5) to fall in love (#8). She knows that if she can complete the list she'll become the kind of artist she's always dreamed of being. But as the deadline approaches, Abby realizes that getting through the list isn't as straightforward as it seems… and that maybe—just maybe—she can't change her art if she isn't first willing to change herself.
Thoughts:
I adore Kasie West's books because they're books I can just slip into without much thought. I know that they're going to be enjoyable and quick to read. I know they'll be a good summer read. That's exactly what Love, Life and The List was for me.
The story centres around Abby who adores painting. Everyone around Abby tells her that she's talented and she believes them. She is shocked to be rejected into an art show because her work doesn't have enough 'heart'. Abby comes up with a list of things she needs to do in order to grow as a person and an artist.
Having heart is something that Kasie West's books definitely have. I thought this book was particularly strong at portraying Abby's relationships. It wasn't just her love interest, the relationship between her grandfather, mother and father were also developed brilliantly. Abby's mother suffers with anxiety and I thought this was an interesting inclusion into the story. I loved that Abby had relationships with others aside from the love interest. Abby wanted to improve for herself and her art. Yes!
The love interest was cute, if a little predictable. Cooper was a cute character, but I think it would've made the story more interesting and less predictable if Abby had made different choices. However, there's nothing wrong with a happily ever after in some stories, right?
Would I recommend it?:
Yes! 3.5 stars
A sweet story with some very interesting characters!