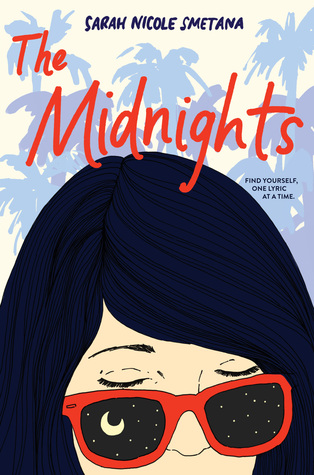 How did I get it?:
I bought it!
Synopsis:
Susannah Hayes has never been in the spotlight, but she dreams of following her father, a former rock star, onto the stage. As senior year begins, she's more interested in composing impressive chord progressions than college essays, certain that if she writes the perfect song, her father might finally look up from the past long enough to see her. But when he dies unexpectedly her dreams—and her reality—shatter.
While Susannah struggles with grief, her mother uproots them to a new city. There, Susannah realizes she can reinvent herself however she wants: a confident singer-songwriter, member of a hip band, embraced by an effortlessly cool best friend. But Susannah is not the only one keeping secrets, and soon, harsh revelations threaten to unravel her life once again.
Thoughts:
On my quest to read more 2018 debut authors, I picked up The Midnights. I didn't really know what to expect from this book. It's a decent read although I did find it dragged in some places.
The Midnights centres around Susannah who lives at home with her mum and dad. She's living a fairly normal life, working, going to school and jamming with her dad who used to be in a band. Susannah is a songwriter and wants to write an amazing song to impress her dad who she absolutely idolises. However, Susannah's dad dies unexpectedly and Susannah finds her life being completely turned upside down. She has to move to Orange, to live with a grandmother she didn't know she had. Susannah's mum seems to be acting differently as well. Susannah feels pretty lost until she meets a girl who seems far too cool to be friends with her. Her new friend introduces Susannah to a band and life begins to change for her once more. Susannah realises she can reinvent herself, but soon secrets from the past start to unravel…
Susannah is an interesting character. I wanted to root for her and found her voice to be incredibly well written. I loved that she had such a strong connection to music and the ties it had with her father. Her relationship with her mother was complex. They were so up and down. I wasn't overly convinced by some of the decisions Susannah made. I felt like there was a lot of resentment there because Susannah didn't always understand her mother's decisions. It was really interesting to see the relationship develop over time. It felt like a realistic relationship especially as they were both experiencing grief. Relationships are hard sometimes and I loved how that was portrayed in The Midnights. I adored Susannah's grandmother and thought she helped Susannah to grow over the course of the story.
I did really enjoy how this story was full of music references, it was clear that it was a massive passion in Susannah and her father's lives and I loved how that was the thing that bound them together.
Whilst this story did drag in places for me, for the main part I was super impressed with this book. It's certainly a promising debut!
Would I recommend it?:
Yes! 3.5 stars!
I really enjoyed this debut novel! It's a slow-burner but worth persevering with.