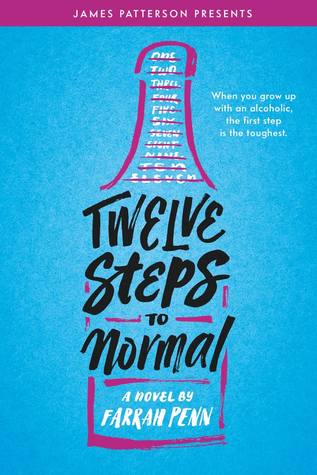 How did I get it?:
I bought it!
Synopsis:
Kira's Twelve Steps To A Normal Life
1. Accept Grams is gone.
2. Learn to forgive Dad.
3. Steal back ex-boyfriend from best friend…
And somewhere between 1 and 12, realize that when your parent's an alcoholic, there's no such thing as "normal."
When Kira's father enters rehab, she's forced to leave everything behind–her home, her best friends, her boyfriend…everything she loves. Now her father's sober (again) and Kira is returning home, determined to get her life back to normal…exactly as it was before she was sent away.
But is that what Kira really wants?
Thoughts:
I thought it would be interesting to read a book about recovery after addiction and how a family copes with such a thing. I also wanted to read another 2018 debut. I'm always keen to find new writers, so try to get to a few debuts a year. Whilst Twelve Steps To Normal wasn't a bad read, it wasn't amazing. It sticks in that middle ground for me.
Twelve Steps To Normal follows Kira as she returns to live with her father after he comes out of rehab. Kira has been living with her Aunt and has had to leave her home, school, friends and boyfriend. Since she had left, Kira distanced herself from everyone at home, trying to protect herself. Now she's back, Kira wants her life back. She wants everything to return to how it was, but as time goes by, Kira wonders if that's really what she wants.
This book has so many characters. I did wonder if there were a little too many to really delve into the characters deeply. Kira's dad brought home some other sober friends from rehab that lived with them until they were ready to go home. It was nice to see their journey too, but I don't feel like we learnt a lot about them. Then there's also Kira's friends, her father, her ex-boyfriend and a love interest.
As for Kira, I have mixed feelings about her. I could understand her reservations about her father. Her friendships confused me though. I don't feel like she treated her friends well but she was easily forgiven. I also didn't like the way she treated her father's friends. She was quite rude and took a while to understand them. I also felt deeply sorry for Alex, the love interest, he was a sweetheart and she was pretty nasty! I realised she had gone through a lot, but I wasn't impressed with her as a character overall.
I appreciated this book for being a story about repairing relationships after family trauma but I was desperate for this book to be more about Kira and her father. I wanted to learn more about her father's recovery and his battle with addiction. I think I was expecting it to be deeper than it was.
Would I recommend it?:
Yes!
Whilst this book didn't blow me away, it was a decent enough read about repairing relationships after hardship!