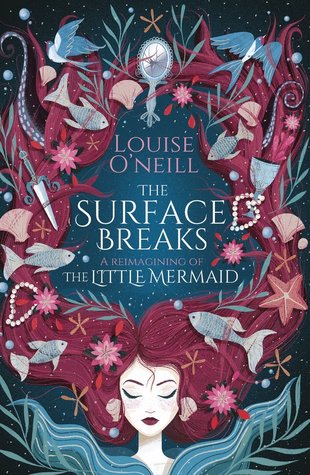 How did I get it?:
I bought it!
Previously reviewed by the same author:
Synopsis:
Deep beneath the sea, off the cold Irish coast, Gaia is a young mermaid who dreams of freedom from her controlling father. On her first swim to the surface, she is drawn towards a human boy. She longs to join his carefree world, but how much will she have to sacrifice? What will it take for the little mermaid to find her voice? Hans Christian Andersen's original fairy tale is reimagined through a searing feminist lens, with the stunning, scalpel-sharp writing and world building that has won Louise her legions of devoted fans. A book with the darkest of undercurrents, full of rage and rallying cries: storytelling at its most spellbinding.
Thoughts:
Don't go into this book thinking that you're going to get the Disney The Little Mermaid. Oh no. This is definitely the Hans Christian Andersen version reimagined by the ever fierce Louise O'Neill. When I pick up a book by Louise O'Neill, I know I'm going to get a raw story. Louise never holds back. I can certainly see why some people have issues with this book. It is incredibly dark and certainly has feminist elements within its pages.
It starts with the youngest daughter of the Sea King turning fifteen years old. The reader is introduced to Gaia and her sisters. We find out that the monarchy under the sea is corrupt. The Sea King's daughters are not treated well. They're expected to look pretty for their men. They are only seen as objects to be sold to men. Urgh.
Gaia, the youngest, is the prettiest and she has a wonderful singing voice. Her future has been decided for her by her father. She is to be married to an older merman (She's 15 and he's around 60ish!) Gaia is always told that she is fortunate because she's been blessed with looks and a beautiful voice. Gaia dreams of swimming up to the surface even though her father is very against it. During her first swim, Gaia sets her eyes on a man up there. She saves him from a shipwreck and from then on, can't stop thinking of him. Gaia starts to question life under the sea.
Gaia can be a bit of a frustrating character to read about. She's so naive but I totally forgave that quality because it was clear that she was searching for someone to love her because of who she was. I loved following her story both under the sea and on the surface. I absolutely adored the sea witch. A very strong female character.
This story is so dark and sinister. It really is so far from the Disney version. It's so close to the original Hans Christian Andersen tale which I absolutely love despite how brutal it is!
Would I recommend it?:
Yes! 3.5 stars
Don't expect Disney. This reimagining is very close to Hans Christian Andersen's story.