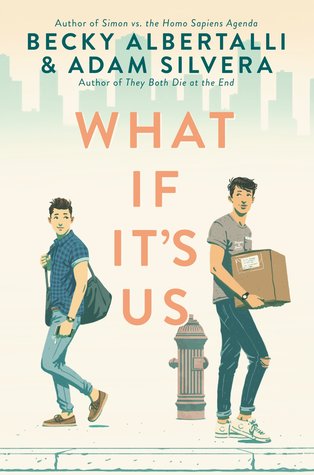 How did I get it?:
I bought it!
Previously reviewed by the same author:
Becky Albertalli
Standalone-
Adam Silvera
Synopsis:
Arthur is only in New York for the summer, but if Broadway has taught him anything, it's that the universe can deliver a showstopping romance when you least expect it.
Ben thinks the universe needs to mind its business. If the universe had his back, he wouldn't be on his way to the post office carrying a box of his ex-boyfriend's things.
But when Arthur and Ben meet-cute at the post office, what exactly does the universe have in store for them?
Maybe nothing. After all, they get separated.
Maybe everything. After all, they get reunited.
But what if they can't quite nail a first date . . . or a second first date . . . or a third?
What if Arthur tries too hard to make it work . . . and Ben doesn't try hard enough?
What if life really isn't like a Broadway play?
But what if it is?
Thoughts:
I'm a big fan of both of these authors, so them writing a book together is pretty much an awesome collaboration in my eyes. Whilst I do prefer their writing separately, I still very much enjoyed reading Arthur and Ben's story. It is heavily romance based, so if that's not your thing then I wouldn't recommend this. If, however, you're looking for a sweet YA read then What If It's Us could be the book for you!
The story revolves around a first meeting of Arthur and Ben. They meet at a post office when Ben is returning his ex-boyfriend's belongings. They end up chatting and connecting but never sharing contact details. After a while, Arthur and Ben manage to reconnect and this is where their story really starts to take off. There are so many bumps along the way. Their foundations are so shaky and you never know whether they're going to get things together. Added to that, Arthur doesn't live in New York so will they manage a long distance relationship?
If you're into really plot heavy books, then this book may put you off. I usually prefer to read a book with a decent plot, but for this book, the character's really did warm my heart and made me want to read their story, even if it wasn't the most full plot.
Arthur was a bundle of energy and could be a little frustrating as a character but on the whole I thought he was a cute character. Ben was the more relatable of the two of them, I think. He very much enjoyed being inside, playing Sims and writing. My sort of person for sure. Ben does move on rather quickly from his break up and I did question that, but it didn't necessarily affect my enjoyment of the story as a whole. Sometimes these things happen, we don't know when someone might walk into our lives.
Becky and Adam as the authors made a wonderful team in my opinion. There was a great balance of humour and softer moments. I enjoyed reading this book and I'm pleased I got around to reading it!
Would I recommend it?:
Of course!
This was an incredibly cute story that really warmed my heart. Perfect for fans of YA Contemporary.