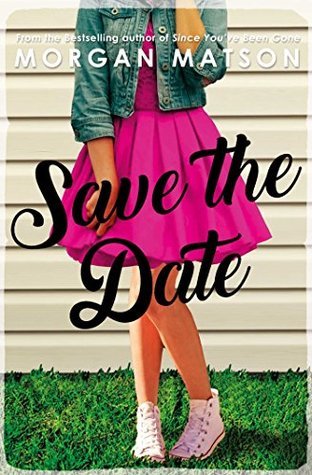 How did I get it?:
I bought it!
Previously reviewed by the same author:
Synopsis:
Charlie Grant's older sister is getting married this weekend at their family home, and Charlie can't wait—for the first time in years, all four of her older siblings will be under one roof. Charlie is desperate for one last perfect weekend, before the house is sold and everything changes. The house will be filled with jokes and games and laughs again. Making decisions about things like what college to attend and reuniting with longstanding crush Jesse Foster—all that can wait. She wants to focus on making the weekend perfect.
The only problem? The weekend is shaping up to be an absolute disaster.
There's the unexpected dog with a penchant for howling, house alarm that won't stop going off, and a papergirl with a grudge.
There are the relatives who aren't speaking, the (awful) girl her favorite brother brought home unannounced, and a missing tuxedo.
Not to mention the neighbor who seems to be bent on sabotage and a storm that is bent on drenching everything. The justice of the peace is missing. The band will only play covers. The guests are all crazy. And the wedding planner's nephew is unexpectedly, distractingly…cute.
Over the course of three ridiculously chaotic days, Charlie will learn more than she ever expected about the family she thought she knew by heart. And she'll realize that sometimes, trying to keep everything like it was in the past means missing out on the future.
Thoughts:
Hmmm… I'm usually a massive fan of this genre, but for some reason Save The Date didn't seem to work for me. Don't get me wrong, it was okay… but nothing exciting in my opinion and I didn't find it overly memorable.
Save The Date is told over the weekend. Charlie Grant's older sister is getting married at the family home. Their family home is being sold so everything is moved forward. Charlie and her family have very strong relationships. It's somewhat helped by the fact that Charlie and her sibling's lives have been portrayed out in their mother's cartoon strip Grant Central Station. However, Charlie's mother goes too far at one point and shows too much of Mike's life, causing a family rift. Mike comes back for the wedding, Danny (her favourite brother) brings an unexpected girlfriend home and nothing goes right at all! It all causes a LOT of drama for the Grant family.
I really enjoyed the Grant family dynamics. I loved the sibling relationships whether they were strained or close. I thought they were really realistic. I also totally got Mike's point at being really annoyed with his mother. I can't say I'd enjoy the sensitive parts of my life being broadcast to the world. So I totally got that. There were moments of this book that were totally wonderful to read. I really did enjoy Charlie as a main character. I was invested in what was going to happen to her.
I think all of the wedding drama got a little bit too much for me. It was so exaggerated and I found myself tiring of the plot line. It definitely made me eye roll and that's not a good thing. However, there's no denying that Morgan Matson is a talented writer. I do enjoy reading her books. It's just in my opinion, this isn't one of her better books.
Would I recommend it?:
Yes!
I really liked the ending which is why I gave this book three stars. I think I just had a weird relationship with it! Fans of YA should enjoy it.