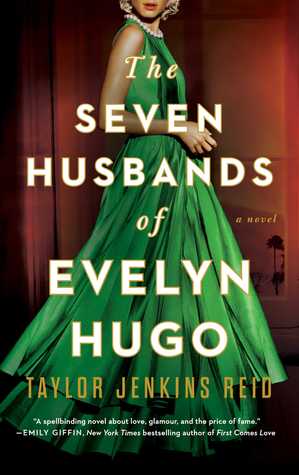 How did I get it?:
I borrowed it from Beth!
Synopsis:
Aging and reclusive Hollywood movie icon Evelyn Hugo is finally ready to tell the truth about her glamorous and scandalous life. But when she chooses unknown magazine reporter Monique Grant for the job, no one is more astounded than Monique herself. Why her? Why now?
Monique is not exactly on top of the world. Her husband has left her, and her professional life is going nowhere. Regardless of why Evelyn has selected her to write her biography, Monique is determined to use this opportunity to jumpstart her career.
Summoned to Evelyn's luxurious apartment, Monique listens in fascination as the actress tells her story. From making her way to Los Angeles in the 1950s to her decision to leave show business in the '80s, and, of course, the seven husbands along the way, Evelyn unspools a tale of ruthless ambition, unexpected friendship, and a great forbidden love. Monique begins to feel a very real connection to the legendary star, but as Evelyn's story near its conclusion, it becomes clear that her life intersects with Monique's own in tragic and irreversible ways.
Written with Reid's signature talent for creating "complex, likable characters" (Real Simple), this is a mesmerizing journey through the splendor of old Hollywood into the harsh realities of the present day as two women struggle with what it means—and what it costs—to face the truth.
Thoughts:
This book was pushed on me by my sister Beth. She read it with Janel and I heard so much about how they loved it. So being the good bookish sister I am, I decided to make time for The Seven Husbands Of Evelyn Hugo. I'm thrilled that I did because I thought it was a spectacular read.
I don't want to explain too much about the plot, because I think it's one in which you have to get into it and discover for yourself. Also, the synopsis definitely gives you a vibe. I'd say it's only a vibe though…the story certainly surprised me along the way.
This book is told in two narratives that sit nicely side by side. That narrative doesn't always work for me, but for this book I thought it was exceptionally well done. We hear from a young reporter named Monique who is interviewing Evelyn and Evelyn herself. Evelyn, the beautiful, successful Hollywood actress. It goes all the way back to the beginning of Evelyn's career in the 1940/50s. I think it perfectly captured the era or at least how I imagine the era would be. This story is so cleverly written. I loved how it was split into parts detailing Evelyn's many husbands and that particular period of her married life. It was great to read the interactions between Monique and Evelyn too. I feel like Evelyn empowered Monique and I'm all for that.
There's so much to get stuck into in this story. It's full of romance and manipulation. To me, it was an excellent depiction of what Hollywood was (and still is?) like. Evelyn was a force to be reckoned with. I loved the female empowerment in this story. Evelyn is not afraid to use her good looks (and big bust!) to get ahead of the competition. She used her sexuality to push herself forward in the business and did so unashamedly. In that time period, Evelyn only really had her sexuality to use. Women certainly weren't treated equally and sadly that can still be the case now too. Evelyn is a fascinating character because she doesn't come across well. She's not easy to love. She's ruthless, willing to do anything to be successful and she plays the system well. Yet I liked her because of these flaws. It didn't matter how cut throat she was, there was still something that I loved about her. I was rooting for everything to go well for her.
I was so impressed with this book. I didn't expect to be as gripped as I was. Yes, Beth. You were right. I loved it!
Would I recommend it?:
Without a doubt!