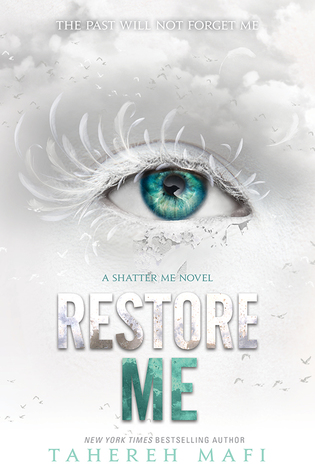 How did I get it?:
It was a gift!
Previously reviewed by the same author:
Shatter Me
Furthermore
Synopsis:
Juliette Ferrars thought she'd won. She took over Sector 45, was named the new Supreme Commander, and now has Warner by her side. But she's still the girl with the ability to kill with a single touch—and now she's got the whole world in the palm of her hand. When tragedy hits, who will she become? Will she be able to control the power she wields and use it for good?
Thoughts:
I was really worried when I heard that the Shatter Me series was going to get another book. I really enjoyed the trilogy and I was anxious that it might not live up to expectations. I know not everyone likes this series, but there's something about it that really captures my attention. I find it utterly readable. Now, this review might seem a bit short and vague, but I really don't want to ruin it for those that haven't read it yet, so I'm going to try and keep it as brief as I can.
Restore Me picks up not long after Ignite Me. Juliette has taken over the Sector 45 and has been named the new Supreme Commander. She has Warner and needs to get her sh*t sorted out. Understandably, Juliette is struggling with the enormity of the task. There's so much she doesn't know and secrets are starting to be revealed. Secrets that could turn her whole life around. The world in which this story is set is pretty terrifying and it doesn't seem to be getting any better…
I loved that we were introduced to some new characters and met up with some others from the previous books. I absolutely loved that Warner and Juliette narrated this instalment. I used to be on neither 'team' but over the series I've really come to love Warner. I'm really excited to see where this story goes.
Would I recommend it?:
Of course!
Bring on Book 5! Not something I usually say… but I'm excited!