Welcome to the 48th edition of Banned Books. That's right, today marks the 4th year anniversary of this feature. Awoohoo!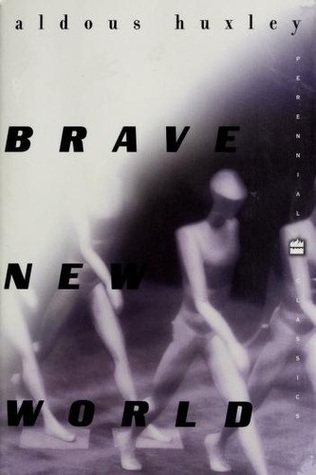 Brave New World by Aldous Huxley
First published: 1932
In the Top Ten most frequently challenged books in 2010 (source)
Reasons: insensitivity, offensive language, racism, sexually explicit.
Do you understand or agree with any of the reasons for the book being challenged when it was originally published?
BETH: First of all, I'm so, so surprised that this book was only put on the ALA Banned & Challenged Books List in 2010! Not because I believe it should be banned or challenged, not at all. But Brave New World is counted as quite the classic and is one of the oldest books we've read and reviewed, being published in 1932 so I'm wondering if there were so many issues with it, why wasn't it put on the list earlier? Food for thought. Anyway, I've already mentioned that I love trying to figure out the reasons why a book might be problematic (for some) before looking at the reasons and I'm always, ALWAYS surprised by the reasons they end up listing. For example, in Brave New World, they worship Henry Ford (founder of the Ford car company) as their God and in one particular scene at the end, suggest that the people who worshipped Jesus/God in the past were delusional. Aha, I thought! One of the reasons for this book being challenged is that it is anti-religion! Nope. That's not a reason.
Instead, as with many of the books we've looked at so far, the reasons just make me laugh. Even thinking about back in the thirties, I'm struggling to figure out how this story could have been insensitive or offend anyone with the language. Unless they're considering the whole growing embryos in bottles thing? Or deliberately depriving said embryos of certain vital materials i.e. oxygen to make them a lower class of people? Which of course makes for horrendous reading but at the end of the day, it is just a story and if you're particularly sensitive to that sort of thing, you just put the book down, right?
CHRISSI: I can't believe that it wasn't banned earlier as well. I've known about it forever, even though I hadn't read it earlier.  It was always one that I had known as a controversial read. Some of the reasons do make me roll my eyes. However, I can see that this book would make people uncomfortable. I certainly felt that way with this book.
How about now?
BETH: It's quite frightening to think that nowadays we live in such a scientifically advanced age that things like this could be possible. Aldous Huxley has chosen a controversial and insightful topic to base his novel around and the culture and world he describes is horrifying of course! Yet when you mention reasons as racism or being sexually explicit as reasons for taking it out of people's hands, I just don't get it. The lower classes in Brave New World are treated disgustingly and this made for quite an uncomfortable reading experience at times but I think the author is deliberately trying to push our buttons and realise what living in a world like this could be like. And with the sexual explicitness? I roll my eyes. Our female lead removes her underwear by unzipping it. Saucy! Also, the people living in this world have quite open sexual relationships with a number of partners. Okay. BUT there is no graphic mention of sexual acts at all (which counts as sexually explicit in my opinion). So just by mentioning the word "sex," it's too graphic? Please!
CHRISSI: I think there's much more explicit content out there. I think Aldous Huxley was totally pushing the boundaries, especially the time in which he wrote this book. As I mentioned before, this book made me feel uncomfortable. Perhaps because, as Beth mentioned, things like this could potentially happen now. That scares me.
What did you think of this book?:
BETH: Brave New World is a re-read for me and I seem to get something different out of it every time I read it. The part with the embryos and the way they are modified depending on the social class they are in is horrible and I'm always moved when I read it. This time around, I did find some parts a bit slower and hard to digest but generally, this is a fascinating classic that I think everyone should be exposed to at some point in their lives.
CHRISSI: I feel like I recommended this book because it was a book I 'had' to read rather than wanted to read. I felt like it was a hard, heavy-going read that didn't grip me. I just couldn't get excited by it. I hate not liking a classic like this but it didn't work for me.
Would you recommend it?:
BETH: But of course!
CHRISSI: It's not for me!