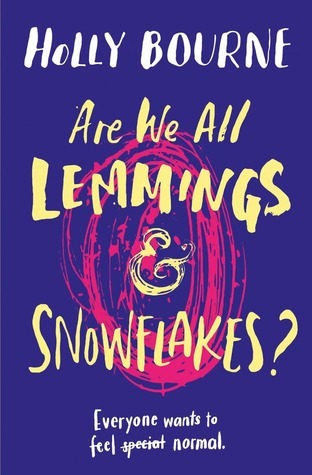 How did I get it?:
I bought it!
Previously reviewed by the same author:
Synopsis:
Welcome to Camp Reset, a summer camp with a difference. A place offering a shot at "normality" for Olive, a girl on the edge, and for the new friends she never expected to make – who each have their own reasons for being there. Luckily Olive has a plan to solve all their problems. But how do you fix the world when you can't fix yourself?
Thoughts:
I am slowly making my way through Holly Bourne's books. She's an author that I've always heard a lot about. I've heard her speak at a few events and I'm always impressed with her. I'm going to make it my mission in 2019 to catch up with her backlist books, as I always enjoy her books when I'm reading them. She's an author that really gets mental health and I'm definitely here for that.
Are We All Lemmings and Snowflakes? is a YA read about a group of teens that go to Camp Reset to try and learn how to be 'normal.' Whilst there, Olive, our main protagonist meets new friends that she'd never have expected. They all have their own backstories and reasons why they're there. Olive comes up with a plan to solve their problems. However, how will Olive manage to save everyone else when she has trouble helping herself?
I love Holly Bourne's writing style. She's so honest about mental health. When she creates characters that have mental health issues, she really nails it. Their experiences with mental health are so raw and real. I love that she doesn't have a magic cure for her characters. Mental health is messy and Holly Bourne always portrays that so well.
I loved that each character was so well developed. The character growth was impressive. They were all flawed but every single thing that they did or experienced didn't seem contrived at all. All of their actions were totally believable.
Are We All Lemmings and Snowflakes? message is about challenging what normal is. It talks about whether it's the world and what happens to us that affects mental health. I liked the idea of challenging labels and thinking how we can use kindness to overcome problems including (most importantly) kindness to your self. Aww.
Would I recommend it?:
Of course!
A fantastic reading experience. Holly Bourne is a champion of YA mental health representation.