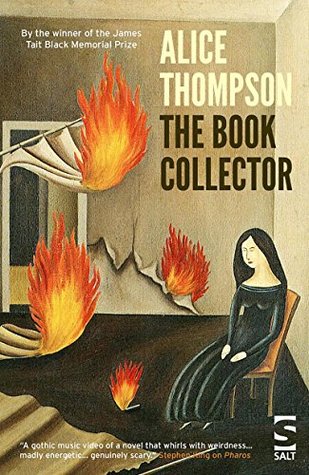 How did I get it?:
Beth and I bought it from Mr B's Emporium of Reading Delights
Synopsis:
Alice Thompson's new novel is a gothic story of book collecting, mutilation and madness. Violet is obsessed with the books of fairy tales her husband acquires, but her growing delusions see her confined in an asylum. As she recovers and is released a terrifying series of events is unleashed.
Thoughts:
Beth and I were recommended this book during our reading spa at Mr B's Emporium in the summer last year. Beth read it and absolutely adored it, but she wasn't sure if I would like it. It's an odd book, a really odd book and she wasn't sure if it was just a little too out there for me. However, I thought it was brilliant. Oddly brilliant, but still!
It centres around Violet who was 19 years old and an orphan when she meets Lord Archie Murray. They fall for each other quickly. Soon, Violet and Archie are married and they have a son called Felix. Archie is an incredibly controlling man who appears to be hiding something. Archie is obsessed with his book collection, especially a book of fairy tales that he keeps hidden away. Violet is curious to know why he hides it away. What is it about the book? Violet is struggling with the change in her life after giving birth to Felix. Violet starts to hallucinate and harms Felix whilst trying to protect him from 'creatures' that are crawling on him. As a result of this, Violet is locked up in an asylum. Violet meets some other women who believe there's something odd about them all staying at the asylum. Violet begins to question everything.
This book really is quite creepy. It's incredibly atmospheric and you find yourself questioning who is stable. The characters all seem unhinged in one way or another. Then there's the inclusion of the character Clara… well, she certainly stirred up the story! The story becomes mysterious as some of the women in the asylum go missing. Then, of course, there's the fairy tales that run throughout the whole story. There's a link between them, but I won't spoil it.
The Book Collector is a short read but it certainly packs a lot of punches throughout it. It's compelling, disturbing but incredibly easy to read!
Would I recommend it?:
Of course!
I was surprised by this book. I didn't expect to like it as much as I did!