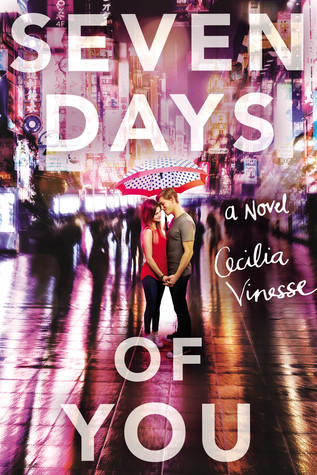 How did I get it?:
I bought it!
Synopsis:
Sophia has seven days left in Tokyo before she moves back to the States. Seven days to say good-bye to the electric city, her wild best friend, and the boy she's harbored a semi-secret crush on for years. Seven perfect days…until Jamie Foster-Collins moves back to Japan and ruins everything.
Jamie and Sophia have a history of heartbreak, and the last thing Sophia wants is for him to steal her leaving thunder with his stupid arriving thunder. Yet as the week counts down, the relationships she thought were stable begin to explode around her. And Jamie is the one who helps her pick up the pieces. Sophia is forced to admit she may have misjudged Jamie, but can their seven short days of Tokyo adventures end in anything but good-bye?
Thoughts:
I have had this book on my TBR for over a year now, so I thought it was about time that I got around to reading it. I was aware of some reviews that weren't overly complimentary about the story. In some ways, I can see why, but I thought it was an okay read and it definitely didn't take me long to read at all. I think it would make a good beach read or a book in-between heavier books.
Seven Days of You follows Sophia who is entering her last week in Tokyo before she moves back to the US. She's struggling with the thought of leaving her friends and the place that she loves spending time in. Sophia has set an alarm counting down the days, hours and minutes until she leaves. An old friend named Jamie is back in Tokyo during Sophia's last week and he makes the last week pretty unforgettable.
I think my main frustration with this book was that I didn't feel like I got to know Tokyo. I've never been there, so I really wanted the setting to be rich and descriptive. I wanted to go on an armchair adventure, but it definitely wasn't for me. It really could have been set anywhere because I didn't get a strong sense of place.
I did think the romance was believable and I liked how it was initially based on friendship. I think the relationship was hopeful for the future at the end of the story. To me, this story isn't a love story for Tokyo, it's a story about finding out who you are readdressing the friendships in your life. I don't think Sophia's friendships were as strong as she thought they were and it was interesting to read her discovery of this fact!
Would I recommend it?:
Yes! Read this book if you're into contemporary YA and you're looking for a quick read.
Whilst I wasn't blown away by this book, I did think it was easy to read and it barely took me long to read at all!