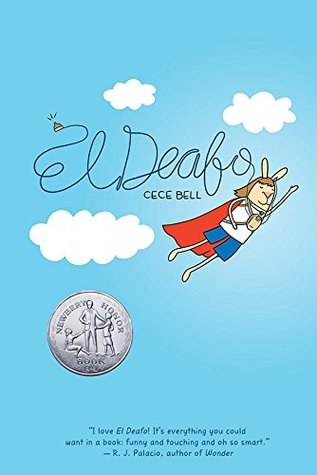 How did I get it?:
It was a present from my sister, Beth!
Synopsis:
Starting at a new school is scary, even more so with a giant hearing aid strapped to your chest! At her old school, everyone in Cece's class was deaf. Here she is different. She is sure the kids are staring at the Phonic Ear, the powerful aid that will help her hear her teacher. Too bad it also seems certain to repel potential friends.
Then Cece makes a startling discovery. With the Phonic Ear she can hear her teacher not just in the classroom, but anywhere her teacher is in school–in the hallway…in the teacher's lounge…in the bathroom! This is power. Maybe even superpower! Cece is on her way to becoming El Deafo, Listener for All. But the funny thing about being a superhero is that it's just another way of feeling different… and lonely. Can Cece channel her powers into finding the thing she wants most, a true friend?
This funny perceptive graphic novel memoir about growing up hearing impaired is also an unforgettable book about growing up, and all the super and super embarrassing moments along the way.
Thoughts:
My sister bought me this book after hearing about it on a podcast she listens to. At the moment, I have a profoundly deaf boy in my class, and she thought this graphic novel would be good to read. It certainly was! I thought it was informative, sweet and humorous at the same time. I really would recommend this graphic novel to any age. I think that there's something for everyone amongst it.
El Deafo is semi autobiographical. The author is 'severe to profoundly deaf' following an illness when she was four years old. El Deafo is the story of how she adapted to her difference, and how her difference became her superpower.
I could relate to so much of this graphic novel. I wear a radio aid for the child in my class and I always have to ensure I mute it when I don't want him to hear something. I had a little giggle at little Cece being able to hear her teacher going to the toilet and having conversations that weren't meant to be listened to by children!
I really appreciated how Cece's difficulties were represented. There was light humour but also deep understanding of what it feels like to be different from the rest of your peers. I highly enjoyed my first graphic novel and I will certainly be recommending this book to children and adults!
Would I recommend it?:
Of course!
This was my first graphic novel and on the strength of this, I'll be definitely looking for more!