I absolutely love taking part in Jamie's End Of Year Book Survey. It can be a little time consuming, but I adore thinking about my reading in the year.
2018 Reading Stats
Number Of Books You Read: 138 (thus far… writing on 8th December!)
Number of Re-Reads: 4
Genre You Read The Most From: Thriller
1. Best Book You Read In 2018?
Tough one. I really enjoyed Nice Try, Jane Sinner by Lianne Oelke.
2. Book You Were Excited About & Thought You Were Going To Love More But Didn't?
Love Songs & Other Lies by Jessica Pennington.
3. Most surprising (in a good way or bad way) book you read?
This Is Not A Love Letter by Kim Purcell. I liked it much more than I thought I would.
4. Book You "Pushed" The Most People To Read (And They Did)?
The Creakers by Tom Fletcher
5. Best series you started in 2018 ? Best Sequel of 2018? Best Series Ender of 2018?
Cheating because it's a re-read but Harry Potter and The Chamber Of Secrets by J.K. Rowling. It wasn't released this year but it was still the best sequel I've read this year.
6. Favourite new author you discovered in 2018?
Cara Hunter! She's awesome
7. Best book from a genre you don't typically read/was out of your comfort zone?
Eek! I can't say I've read outside my comfort zone this year.
8. Most action-packed/thrilling/unputdownable book of the year?
A Thousand Perfect Notes by C.G. Drews
9. Book You Read In 2018 That You Are Most Likely To Re-Read Next Year?
I'm not a massive re-reader. I don't think I'll re-read a book from this year.
10. Favourite cover of a book you read in 2018?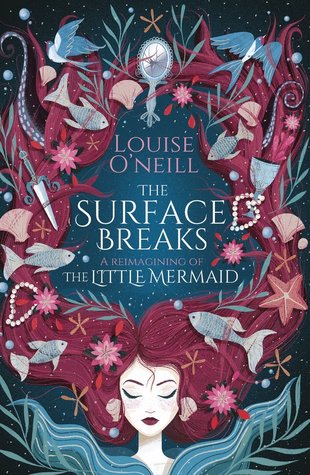 11. Most memorable character of 2018?
Zach from Only Child
12. Most beautifully written book read in 2018?
Number The Stars by Lois Lowry
13. Most Thought-Provoking/ Life-Changing Book of 2018?
Not life changing, but thought-provoking… Anatomy of Scandal by Sarah Vaughan.
14. Book you can't believe you waited UNTIL 2018 to finally read?
A List Of Cages by Robin Roe. Not an old book but I wish I had read it last year.
15. Favourite Passage/Quote From A Book You Read In 2018?
"Getting smacked in the face with a Harry Potter book does not qualify as a fight," Charlie says.
"First of all, it wasn't just any Harry Potter book. It was Order of the Phoenix."
Matt gasps. He knows that Order of the Phoenix is the longest and most potentially dangerous of all the Harry Potter books when used as a weapon."
A List Of Cages by Robin Roe
16. Shortest & Longest Book You Read In 2018?
King & King by Linda De Haan and I Am Jazz by Jessica Herthel and Jazz Jenningd- both 32 pages (as part of a banned books feature)
The Heart's Invisible Furies by John Boyne- 736 pages
How I did this: Went to my read books on Goodreads and sorted by page number and just looked for what I knew I read this year that was the shortest and longest.
17. Book That Shocked You The Most
Bad Romance by Heather Demetrios. A beautiful book, but so tough to read.
18. OTP OF THE YEAR (you will go down with this ship!)
(OTP = one true pairing if you aren't familiar)
Mateo and Rufus- They Both Die At The End by Adam Silvera
19. Favourite Non-Romantic Relationship Of The Year
Stevie and Hafiz from Don't Stop Thinking About Tomorrow by Siobhan Curham
20. Favourite Book You Read in 2018 From An Author You've Read Previously
Bad Romance by Heather Demetrios!
21. Best Book You Read In 2018 That You Read Based SOLELY On A Recommendation From Somebody Else/Peer Pressure:
Turtles All The Way Down by John Green. I'm not a fan of Mr Green, but I wanted to read it because it was recommended so highly.
22. Newest fictional crush from a book you read in 2018?
I don't have one this year!
23. Best 2018 debut you read?
You'll Miss Me When I'm Gone by Rachel Lynn Soloman
24. Best Worldbuilding/Most Vivid Setting You Read This Year?
The Showstopper series by Hayley Barker.
25. Book That Put A Smile On Your Face/Was The Most FUN To Read?
The Creakers by Tom Fletcher
26. Book That Made You Cry Or Nearly Cry in 2018?
They Both Die At The End by Adam Silvera.
27. Hidden Gem Of The Year?
Nice Try, Jane Sinner by Lianne Oelke
28. Book That Crushed Your Soul?
A List Of Cages by Robin Roe
29. Most Unique Book You Read In 2018?
The Astonishing Color of After by Emily X.R Pan
30. Book That Made You The Most Mad (doesn't necessarily mean you didn't like it)?
I Am Jazz by Jessica Herthel and Jazz Jennings- the fact that this gentle picture book is challenged really makes me mad.
1. New favourite book blog/Bookstagram/Youtube channel you discovered in 2018?
That's far too hard. I have loads of favourites. Check out some of them here.
2. Favourite post you wrote in 2018?
A Week In The Life Of A Primary School Teacher- Girls, girls, girls
I loved the support I got for this post.
3. Favourite bookish related photo you took in 2018?
4. Best bookish event that you participated in (author signings, festivals, virtual events, etc.)?
Ooh I haven't. I must participate next year.
5. Best moment of bookish/blogging life in 2018?
Seeing my statistics grow more. I'm not focused on them, but it's nice to see improvement year by year rather than a drop.
6. Most challenging thing about blogging or your reading life this year?
My reading has slowed considerably due to the busy nature of my job.
7. Most Popular Post This Year On Your Blog (whether it be by comments or views)?
Top Ten Shows/Movies To Binge Watch
8. Post You Wished Got A Little More Love?
9. Best bookish discover (book related sites, book stores, etc.)?
I haven't discovered anything new.
10. Did you complete any reading challenges or goals that you had set for yourself at the beginning of this year?
Yes! I have saved £1 for every book I've read.
I've also read over 12 British books… my current total being 65 books. Check them out here. 
I also think I'll finish my Goodreads target of 150 books.
1. One Book You Didn't Get To In 2018 But Will Be Your Number 1 Priority in 2019?
The Dangerous Art Of Blending In by Angelo Surmelis
2. Book You Are Most Anticipating For 2019 (non-debut)?
Fame, Fate and The First Kiss by Kasie West- I love Kasie's books!
3. 2019 Debut You Are Most Anticipating?
Wilder Girls– Rory Power
4. Series Ending/A Sequel You Are Most Anticipating in 2019?
I don't have one!
5. One Thing You Hope To Accomplish Or Do In Your Reading/Blogging Life In 2019?
Step outside my comfort zone with genre!
6. A 2019 Release You've Already Read & Recommend To Everyone (if applicable):
I haven't read one at the time of writing this, but I have an ARC for The Flower Girls by Alice Clark-Platts that I'm really looking forward to.
Please leave me a link if you do this survey. I LOVE reading people's answers.