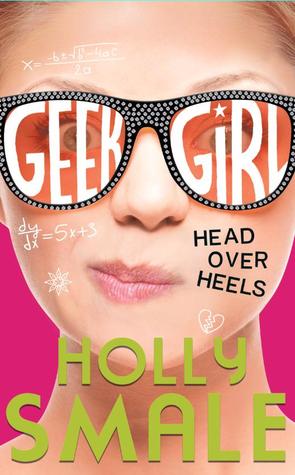 How did I get it?:
I bought it!
Previously reviewed by the same author:
Synopsis:
Harriet Manners knows almost every fact there is.
She knows duck-billed platypuses don't have stomachs.
She knows that fourteen squirrels were once detained as spies.
She knows only one flag in the world features a building.
And for once, Harriet knows exactly how her life should go. She's got it ALL planned out. So when love is in the air, Harriet is determined to Make Things Happen!
If only everyone else would stick to the script…
Has GEEK GIRL overstepped the mark, and is following the rules going to break hearts all over again?
Thoughts:
There's something about the Geek Girl books that just makes me happy. I absolutely love Harriet as our main protagonist. She's such a lovable character even if she can be infuriating at times. Head Over Heels is a wonderful addition to the series. I loved stepping back into Harriet's world.
As ever, we begin the story with Harriet giving us a recap of what she's been up to. One of the things that I love about this series is that I'm getting so familiar with the characters. I even have love for Toby, Harriet's 'stalker'. Harriet isn't modeling as much as she used to be, so she's putting all of her time and energy into organising her group of friends. As we know, Harriet is super organised. She wants to plan an amazing sleepover. She's even got an itinerary. Harriet fails to realise what her friends are going through which makes it really hard to agree on a date. Wilbur, makes a reappearance. When Harriet overhears a conversation, she gets stuck on the idea that she has to take modeling seriously to help Wilbur out of a sticky financial situation. Once Harriet gets stuck on an idea, she goes through with her plans even if it does involve a little meddling along the way.
I absolutely love this series. I find it so addictive and easy to read. The characters, as I mentioned, seem so familiar, it's like catching up with friends! I love that Harriet has now got a core group of friends. She's found it difficult in the past to make friends and whilst it isn't plain sailing for Harriet, it's wonderful to read about their group dynamics. I read this book in no time at all. It's so fun and heart-warming to read.
Would I recommend it?:
Of course!
Another great instalment of the Geek Girl series. This fun and heart-warming series should be on your radar if you love cute and funny reads!