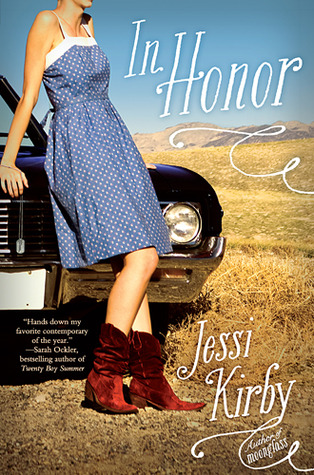 How did I get it?:
I bought it!
Previously reviewed by the same author:
Golden
Synopsis:
Honor receives her brother's last letter from Iraq three days after learning that he died, and opens it the day his fellow Marines lay the flag over his casket. Its contents are a complete shock: concert tickets to see Kyra Kelly, her favorite pop star and Finn's celebrity crush. In his letter, he jokingly charged Honor with the task of telling Kyra Kelly that he was in love with her.
Grief-stricken and determined to grant Finn's last request, she rushes to leave immediately. But she only gets as far as the driveway before running into Rusty, Finn's best friend since third grade and his polar opposite. She hasn't seen him in ages, thanks to a falling out between the two guys, but Rusty is much the same as Honor remembers him: arrogant, stubborn . . . and ruggedly good-looking. Neither one is what the other would ever look for in a road trip partner, but the two of them set off together, on a voyage that makes sense only because it doesn't. Along the way, they find small and sometimes surprising ways to ease their shared loss and honor Finn–but when shocking truths are revealed at the end of the road, will either of them be able to cope with the consequences?
Thoughts:
After reading and absolutely loving Golden, I wasn't sure whether I was going to like In Honor as much as it. Golden is a beautiful book (which I highly recommend). In Honor is a decent enough read, but for me I couldn't connect with it as much as I wanted to. I liked it enough to carry on reading though.
In Honor is a story about grief and friendship. Honor, who is the main character in this book has lost her brother who was deployed in Iraq. Honor has received a letter from her brother which arrives after his death. The letter encourages Honor to go on a road trip to see her favourite singer before she starts college. Honor is convinced that she should go. Honor's best friend's brother Rusty goes along with her (a little predictable, but go with it!)
Honor was an easy character to like, but I have to say, I preferred Rusty. I did feel sorry for Honor and her loss, but Rusty seemed much more relatable. I could feel his anguish through the pages. Honor does come across as a little bland and she's not a character that was memorable enough for me
There is, of course, a little love story running throughout the book which is predictable. This is one case where I'd actually like to have read more on the romance. It's touched on, but not really focused on and as a consequence of this- the romance doesn't feel as real as it could be. In Honor is definitely a cutesy read. It doesn't focus too much on the feelings of grief and loss, but moving forward with your life instead.
Would I recommend it?:
Yes! To some.
This isn't the deepest grief story that you will read, but it kept me interested throughout!