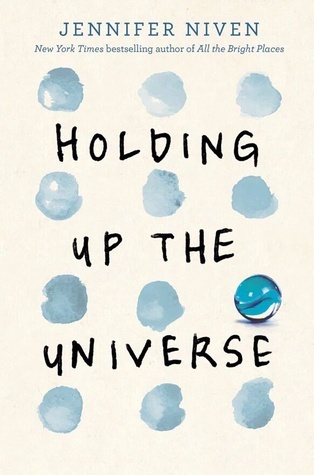 How did I get it?:
NetGalley- thanks to Penguin UK
Previously reviewed by the same author:
All The Bright Places
Synopsis:
Everyone thinks they know Libby Strout, the girl once dubbed "America's Fattest Teen." But no one's taken the time to look past her weight to get to know who she really is. Following her mom's death, she's been picking up the pieces in the privacy of her home, dealing with her heartbroken father and her own grief. Now, Libby's ready: for high school, for new friends, for love, and for EVERY POSSIBILITY LIFE HAS TO OFFER. In that moment, I know the part I want to play here at MVB High. I want to be the girl who can do anything.
Everyone thinks they know Jack Masselin, too. Yes, he's got swagger, but he's also mastered the impossible art of giving people what they want, of fitting in. What no one knows is that Jack has a newly acquired secret: he can't recognize faces. Even his own brothers are strangers to him. He's the guy who can re-engineer and rebuild anything in new and bad-ass ways, but he can't understand what's going on with the inner workings of his brain. So he tells himself to play it cool: Be charming. Be hilarious. Don't get too close to anyone.
Until he meets Libby. When the two get tangled up in a cruel high school game—which lands them in group counseling and community service—Libby and Jack are both pissed, and then surprised. Because the more time they spend together, the less alone they feel. . . . Because sometimes when you meet someone, it changes the world, theirs and yours.
Thoughts:
I enjoyed Jennifer Niven's debut novel, but not as much as everyone else seemed to. I still enjoyed it enough to want to read something else she had written, so when I had the chance to read Holding Up The Universe I jumped at the chance. I actually preferred Holding Up The Universe. The story had me gripped from the start and I loved to read from both Libby and Jack's points of view.
Libby and Jack are both fantastic characters. They come with some issues. Libby was once called America's fattest teen. She once had to be taken out of her house via a crane. Libby had reasons as to why she turned to food which we as a reader find out quickly. Jack is hiding a secret. He comes across as really confident, but he has a condition which means he can't recognise faces. I found that utterly fascinating. Libby and Jack end up meeting and an event lands them both in group counseling and community service. They find themselves growing closer to one another and learning more about the person on the inside.
I thought this book was incredibly easy to read with some very likeable characters. It is clear that both Libby and Jack don't have it easy and Jennifer Niven doesn't beat around the bush. She explicitly tells the reader how horrific the bullying was for Libby. Libby is empowering though. She has a new found 'don't care' attitude. She loves to dance and doesn't mind that she's not your conventional dancer.
This book has come under some criticism, but to be honest, I don't really understand why. Jennifer Niven writes so well and I think this book represents a strong female character who wants to be seen for who she really is!
Would I recommend it?:
Of course!
A well written story which I think might give others hope to be who they really want to be!