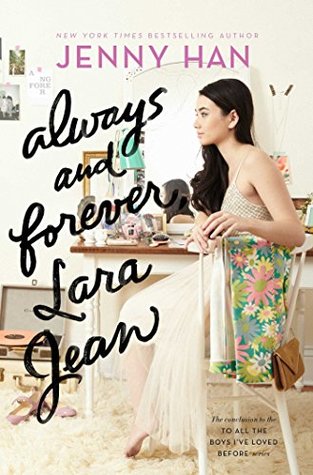 How did I get it?:
I bought it!
Previously reviewed by the same author:
Burn For Burn
The Summer I Turned Pretty:
To All The Boys I've Loved Before:
Synopsis:
Lara Jean is having the best senior year. And there's still so much to look forward to: a class trip to New York City, prom with her boyfriend Peter, Beach Week after graduation, and her dad's wedding to Ms. Rothschild. Then she'll be off to college with Peter, at a school close enough for her to come home and bake chocolate chip cookies on the weekends.
Life couldn't be more perfect!
At least, that's what Lara Jean thinks…until she gets some unexpected news.
Now the girl who dreads change must rethink all her plans—but when your heart and your head are saying two different things, which one should you listen to?
Thoughts:
I haven't been the biggest fan of this series. Don't get me wrong, I don't think it's awful and I'm still a fan of Jenny Han's writing. I just didn't get the love for it as much as some others have done. I was surprised that there was a third instalment, but I was interested enough to purchase a copy and read it. I'm glad I did read it, because I think it wraps up the story quite nicely.
This book focuses on Lara Jean's senior year. She's expecting to go to the same college as her boyfriend Peter, however, she has some news that shocks her and changes her plan. But will her relationship survive?
I enjoyed reading Lara Jean and Peter's story.  My favourite characters in the series do tend to be Lara Jean's sister and her Dad. I think they're a wonderful family and I love their interactions in this series. I hate to say it, but I actually found Lara Jean and Peter's relationship quite irritating in this particular instalment. It was mainly Lara Jean that frustrated me with her decisions.
This book isn't particularly plot heavy but it was easy enough to read and I think it concludes the series quite nicely.
Would I recommend it?:
Yes!
I may not be as much of a fan as some other bloggers of this series, but there's no denying that it's a sweet contemporary YA read!