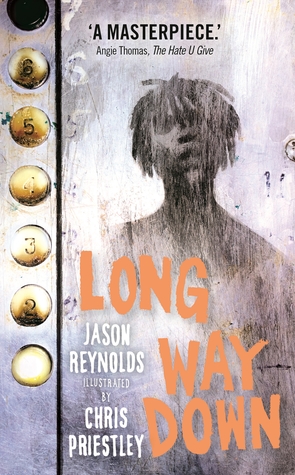 How did I get it?:
I received it from Faber. Many thanks to them.
Synopsis:
AND THEN THERE WERE SHOTS
Everybody
ran,
ducked,
hid, tucked
themselves tight.
Pressed our lips to the
pavement and prayed
the boom, followed by
the buzz of a bullet,
didn't meet us.
After Will's brother is shot in a gang crime, he knows the next steps. Don't cry. Don't snitch. Get revenge. So he gets in the lift with Shawn's gun, determined to follow The Rules. Only when the lift door opens, Buck walks in, Will's friend who died years ago. And Dani, who was shot years before that. As more people from his past arrive, Will has to ask himself if he really knows what he's doing.
This haunting, lyrical, powerful verse novel will blow you away.
Thoughts:
I was approached to read this book fairly recently and immediately was intrigued. I'm getting more into books told in verse. I don't think it'll ever be my 'thing' but I do enjoy reading books written this way every now and then. This is especially the case when they're about powerful topics. Long Way Down completely captivated me and I could have easily read it in one sitting. It was that compelling.
Long Way Down is a brutal book about violence. It centres around Will's brother Shawn who was shot and killed. The rules are that someone in your family is killed, you go and seek revenge. That's what Will sets out to do. He grabs the gun in his room and sets out to kill his brother's killers. However, in the elevator on the way down he is joined by ghosts of people that have been shot in Will's life.
The first thing that really struck me was how much Will had gone through in his young life so far. It was heart-wrenching. So many deaths due to gun violence. It has to have really affected him. I definitely thought of all of the lives being ruined to gun violence. It really made my stomach turn. It was sad to see the cycle going on and on. People dying, then the shooter being shot…then someone else killing them… it was endless. I felt like the ghosts were trying to get Will to stop the cycle and realise that seeking revenge wouldn't end well for him.
I loved that Jason Reynolds used free verse to tell the story. I feel like this was the best way to portray Will's experience with the ghosts. It was interesting, brutal and powerful at the same time. It made me want to read some of the moments out loud for more of an impact.
Long Way Down sends a message about gang/gun violence. It is devastating to think about how many lives are lost this way every single day. It's an incredibly quick read and I definitely think the ending is open to interpretation which is interesting.
Would I recommend it?:
Of course!
A quick, brutal read!