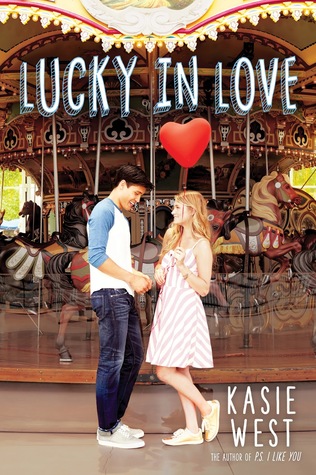 How did I get it?:
I bought it!
Previously reviewed by the same author:
Standalone
Synopsis:
Can't buy me love…
Maddie's not impulsive. She's all about hard work and planning ahead. But one night, on a whim, she buys a lottery ticket. And then, to her astonishment—
She wins!
In a flash, Maddie's life is unrecognizable. No more stressing about college scholarships. Suddenly, she's talking about renting a yacht. And being in the spotlight at school is fun…until rumors start flying, and random people ask her for loans. Now Maddie isn't sure who she can trust.
Except for Seth Nguyen, her funny, charming coworker at the local zoo. Seth doesn't seem aware of Maddie's big news. And, for some reason, she doesn't want to tell him. But what will happen if he learns her secret?
Thoughts:
I've mentioned before how Kasie West's books are perfectly light and easy to read. I needed a light read so I decided to pick up Lucky In Love, the only Kasie West book I was yet to read. Whilst it isn't my favourite Kasie West book, it was still a quick, easy to read, cute story.
Lucky In Love centres around Maddie who has been working hard to get into college. Money is tight at home and her family aren't getting on well. Maddie buys a lottery ticket, not expecting to win but ends up winning the jackpot. Her life immediately changes. Maddie gives her brother, Mum and Dad a million dollars each. She hopes that it will solve their problems. Maddie finds out that money only fixes things temporarily. Some problems are much deeper.
Maddie is a bit of a pushover. She easily spends the money, influenced by others and keeping them happy. She buys a sports car, instead of a practical car because she's influenced by others. She pays for a band that she's never heard to play at her party because she felt guilty that she didn't invest in them. She does become a little frustrating to read about as you just want to shake her and tell her to be more responsible with her money. I wanted her to wise up and realise that people were using her!
I did think the romance between Maddie and Seth was very sweet and a slow burner. I would've liked to learn more about his story though. Considering that the title of this book is Lucky In Love, it wasn't really heavy on the romance which I was a little disappointed by.
Would I recommend it?:
Yes!
Not the best Kasie West, but a decent, quick holiday read!