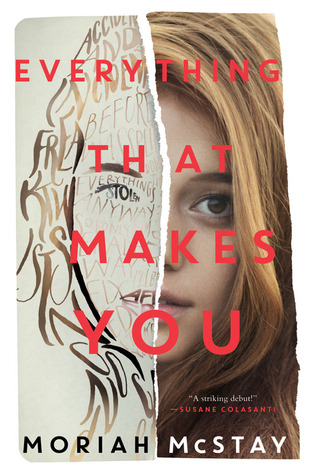 How did I get it?:
I bought it!
Synopsis:
One girl. Two stories. Meet Fiona Doyle. The thick ridges of scar tissue on her face are from an accident twelve years ago. Fiona has notebooks full of songs she's written about her frustrations, her dreams, and about her massive crush on beautiful uber-jock Trent McKinnon. If she can't even find the courage to look Trent straight in his beautiful blue eyes, she sure isn't brave enough to play or sing any of her songs in public. But something's changing in Fiona. She can't be defined by her scars anymore.
And what if there hadn't been an accident? Meet Fi Doyle. Fi is the top-rated female high school lacrosse player in the state, heading straight to Northwestern on a full ride. She's got more important things to deal with than her best friend Trent McKinnon, who's been different ever since the kiss. When her luck goes south, even lacrosse can't define her anymore. When you've always been the best at something, one dumb move can screw everything up. Can Fi fight back?
Hasn't everyone wondered what if? In this daring debut novel, Moriah McStay gives us the rare opportunity to see what might have happened if things were different. Maybe luck determines our paths. But maybe it's who we are that determines our luck.
Thoughts:
Everything That Makes You was a book that I was really intrigued by and was really looking forward to releasing in 2015. I thought it was a great idea for a story, almost like the movie Sliding Doors. However, it fell short for me, and whilst I very much enjoyed it to begin with, I started to get a little bored with it. It didn't capture my attention throughout.
Everything That Makes You follows Fiona who was scarred at a young age after she had an accident at the zoo. The other perspective asks the 'What If?' question and we follow Fi who is living her life unscarred. I think it's really interesting to follow the same character along different paths. I never really got confused with who I was following. I did prefer reading about Fiona's life and how she dealt with reactions to her. I couldn't really get on with Fi though. She was whiny and little too dramatic. I don't know if this was intentional on the author's part, to make them so very different so their voices were distinct. I liked how the stories came together, and how some characters had relevance in both version of Fiona's life, but in different ways. That was very clever.
I did really like how this book dealt with a few heavy issues. It ranges from physical disfigurement, serious illness, self-esteem, grief, guilt and much more besides. It's good to see these issues represented in Young Adult literature.
I guess I was expecting more of a journey for the character. I wanted to see how she was going to end up where she was supposed to be, where life meant her to be, but I didn't really get a sense of that. It was more about Fiona dealing with what life threw at her, but she didn't really learn as much as I wanted her to. I wanted it to be deeper than it was.  It's still a decent debut though, and I look forward to reading more from Moriah McStay.
Would I recommend it?:
Yes!
An intriguing look at the 'What If?' question!