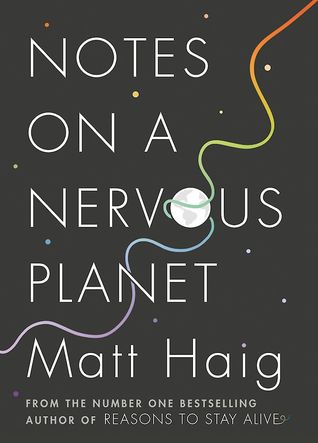 How did I get it?:
I bought it!
Previously reviewed by the same author:
Synopsis:
The world is messing with our minds.
Rates of stress and anxiety are rising. A fast, nervous planet is creating fast and nervous lives. We are more connected, yet feel more alone. And we are encouraged to worry about everything from world politics to our body mass index.
– How can we stay sane on a planet that makes us mad? 
– How do we stay human in a technological world?
– How do we feel happy when we are encouraged to be anxious?
After experiencing years of anxiety and panic attacks, these questions became urgent matters of life and death for Matt Haig. And he began to look for the link between what he felt and the world around him.
Notes on a Nervous Planet is a personal and vital look at how to feel happy, human and whole in the 21st century.
Thoughts:
I absolutely adored Reasons To Stay Alive. I thought it was such a raw, honest look at depression and anxiety from someone who truly knows how it feels. I thoroughly enjoyed Notes On A Nervous Planet which looks at how technology and the media is affecting our minds.
Notes On A Nervous Planet is an important book because it really explores how technology now can affect our mental health. Goodness knows social media isn't all that it's made out to be. We only see segments of people's lives that they choose to share. Yet we still let ourselves be affected by what we see online. Matt Haig speaks openly and honestly about the dangers of technology and social media and how it has impacted his life.
I love how in both of his books he writes short, witty chapters. Within the pages there's so much insight though. Matt Haig is a writer that really makes me think. I love the advice he gives as well on how to be happier today. He had some great tips that definitely made me stop, think and discuss with friends. Not many authors can do that.
Reading a Matt Haig non-fiction book makes me feel like I'm talking to a wise friend. I adore Matt's writing style and his honesty. He honestly made me feel like this messy world could and should be a happier place.
Would I recommend it?:
Of course!
Whilst I preferred Reasons To Stay Alive, I still thought this book was incredible. Matt Haig writes such insightful things that really resonate with me.