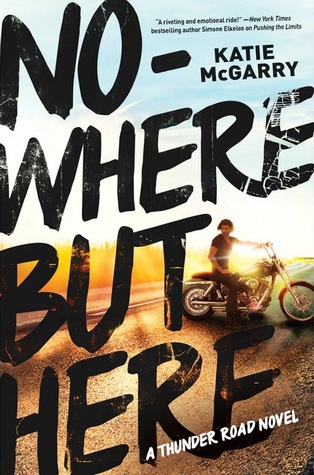 How did I get it?:
NetGalley- thanks to Harlequin UK!
Previously reviewed by the same author:
Pushing The Limits
Dare You To
Crossing The Line
Breaking The Rules
Crash Into You
Take Me On
Synopsis:
Seventeen-year-old Emily likes her life the way it is: doting parents, good friends, good school in a safe neighborhood. Sure, she's curious about her biological father—the one who chose life in a motorcycle club, the Reign of Terror, over being a parent—but that doesn't mean she wants to be a part of his world. But when a reluctant visit turns to an extended summer vacation among relatives she never knew she had, one thing becomes clear: nothing is what it seems. Not the club, not her secret-keeping father and not Oz, a guy with suck-me-in blue eyes who can help her understand them both.
Oz wants one thing: to join the Reign of Terror. They're the good guys. They protect people. They're…family. And while Emily—the gorgeous and sheltered daughter of the club's most respected member—is in town, he's gonna prove it to her. So when her father asks him to keep her safe from a rival club with a score to settle, Oz knows it's his shot at his dream. What he doesn't count on is that Emily just might turn that dream upside down.
No one wants them to be together. But sometimes the right person is the one you least expect, and the road you fear the most is the one that leads you home.
Thoughts:
As you might guess, (from my links to Katie McGarry's other books above) I think Katie McGarry is a great writer. I'm always excited to read her books and often drop my reading schedule to read her new releases. I was thrilled when I was approved to read Katie's first book in the new Thunder Road series. Whilst I didn't enjoy Nowhere But Here as much as I did the first book in the Pushing The Limits series, I can still see myself falling in love with this series. Katie sure knows how to write some great characters!
Nowhere But Here centres around Emily and Oz.  Right from the start we learn that Emily has always been happy with her life the way it was. Everything was safe and she had loving parents. Emily's biological Dad occasionally visited her, which was fine with Emily. Emily's biological Dad Eli is part of a motorcycle club, but Emily doesn't know much about the club or his lifestyle, as he always visited her. One day Emily visits the club, and finds herself staying a lot longer than she had anticipated. It is there that Emily meets Oz, who has always wanted to be a part of the club. Oz is told to look out for Emily, because Emily is in some sort of danger. Emily and Oz start off hating each other, but can't deny the attraction that grows between them. This book is full of drama, but I've definitely come to expect that from a Katie McGarry book.
What gets me about Katie McGarry's books is how she can make me have an interest in something I had previously had no interest in. With this book, it was motorcycle clubs. I wasn't interested AT ALL going into the story and felt kind of dubious about it all, yet Katie wrote about it in such an engaging way that I felt myself racing (ha!) through the story.
This book was a little predictable in places, but that really didn't affect my enjoyment of the story. I liked reading from both Emily and Oz's point of view. I feel it allowed us to get to know the characters and see how their stories progressed. There are so many characters within this book that I can easily see getting their own story, like Katie's Pushing The Limits series. I'm trying not to be too judgmental of the characters, as I know from Pushing The Limits, that Katie can transform a character I hate into characters that I at least understand within their own story. Clever!
Would I recommend it?:
Of course!
Another gem from Katie McGarry. Definitely check this out if you're into your YA Contemporaries!