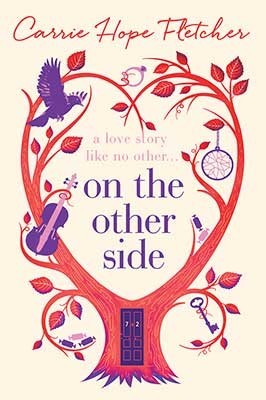 How did I get it?:
I bought it!
Synopsis:
Evie Snow is eighty-two when she quietly passes away in her sleep, surrounded by her children and grandchildren. It's the way most people wish to leave the world but when Evie reaches the door of her own private heaven, she finds that she's become her twenty-seven-year-old self and the door won't open.
Evie's soul must be light enough to pass through so she needs to get rid of whatever is making her soul heavy. For Evie, this means unburdening herself of the three secrets that have weighed her down for over fifty years, so she must find a way to reveal them before it's too late. As Evie begins the journey of a lifetime, she learns more about life and love than she ever thought possible, and somehow , some way, she may also find her way back to her long lost love . . .
Thoughts:
I didn't read Carrie Hope Fletcher's All I Know Now as it really didn't seem like my sort of read. However, when I heard about On The Other Side I immediately pre-ordered a copy. It sounded like my sort of read and I've followed Carrie's career with interest over the past few years. I really enjoyed On The Other Side. It's certainly a solid step into fiction and even though I didn't think it was completely flawless, it entertained me throughout and it is a book that I'd highly recommend.
My edition of On The Other Side (the hardcover) is absolutely stunning. Underneath the dust jacket is so pretty. Pinks, purples and wonderful designs. It truly is a beautiful book. I've digressed though…
On The Other Side centres around Evie Snow. At the start of the story, Evie has just died. She was in her 80s and lived a happy life with her adored children. However, in order to pass through, Evie needs to unburden her soul of whatever it is that it is making it heavy. Evie needs to revisit her past and uncover some secrets, she needs to reveal the biggest love of her life, Vincent.
I absolutely loved this idea from Carrie Hope Fletcher. It's a wonderful idea to be faced with a door that you have to pass through when your soul has been unburdened. I loved the way that Evie was able to connect with her family too. I absolutely adore magical realism and there were some really lovely elements within this story. Carrie's writing is incredibly lyrical at points which isn't surprising from a performer.
Now for the bits I struggled with… well, this book is billed as adult fiction but I really don't think it feels like adult fiction to me. I love YA and I feel like On The Other Side is much more suited to that genre. I also found the time period quite confusing. It felt like it was very mismatched. At some points in the story, it felt like 50/60s but then there was a lot of reference to modern, contemporary life. I mean, this is just being picky, but for me I would have liked more of a solid sense of time. I understand that it really isn't that important to some. However, I felt like it gave a disjointed feel to the story and that's a shame as the story really is beautiful and otherwise well thought out.
I truly think this book is worth giving a try. I think it is a brilliant step into fiction and I can imagine that Carrie's writing will get better and better over time. I certainly was pleasantly surprised.
Would I recommend it?:
Of course!
Carrie has created some wonderful characters in this touching story. It may not be a perfect novel but it captured my attention and warmed my heart!