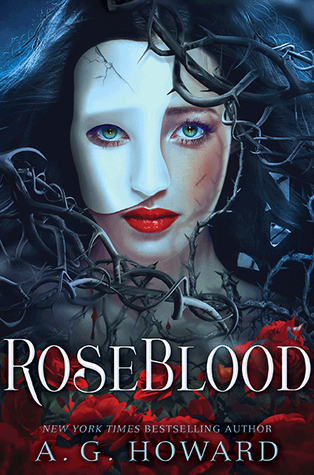 How did I get it?:
I bought it!
Previously reviewed by the same author:
Synopsis:
In this modern day spin on Leroux's gothic tale of unrequited love turned to madness, seventeen-year-old Rune Germain has a mysterious affliction linked to her operatic talent, and a horrifying mistake she's trying to hide. Hoping creative direction will help her, Rune's mother sends her to a French arts conservatory for her senior year, located in an opera house rumored to have ties to The Phantom of the Opera. 
At RoseBlood, Rune secretly befriends the masked Thorn—an elusive violinist who not only guides her musical transformation through dreams that seem more real than reality itself, but somehow knows who she is behind her own masks. As the two discover an otherworldly connection and a soul-deep romance blossoms, Thorn's dark agenda comes to light and he's forced to make a deadly choice: lead Rune to her destruction, or face the wrath of the phantom who has haunted the opera house for a century, and is the only father he's ever known.
Thoughts:
Hmm.. this is going to be an interesting review to write because I have very mixed feelings about it. I had read a few mixed reviews so I had prepared myself that I might not like this story. I always like to give a book a go though, so I did. I wasn't sure about a Phantom Of The Opera reimagining. However, I thought it was something unique and A.G Howard's story was definitely that.
In A.G. Howard's reimagining, The Phantom is very much live and kicking. There are references to the original story, but RoseBlood definitely doesn't read like a retelling. It's A.G. Howard imagining what could happen next. There are some very 'interesting' plot twists which I don't want to mention, as I don't want to spoil the story for those that do want to give it a go. There are also some very heavy issues included in the story, making me think that this story would be best for the higher age range of YA.
Rune is the main character and I can imagine she's going to grate on some readers. I didn't mind her though. I enjoyed her interactions with her new friends and I felt like she grew throughout the story. I actually preferred reading from the point of view of the Phantom's adopted son. I wonder if the narrative had followed him alone, whether I would have enjoyed this book more?
I think this book is far too long. I felt like if it was 100 pages lighter, then my rating might have been higher. I just felt like some of the events were dragged out and unnecessary which is a shame. It affected the pace and I think if it had been shorter, the pace would have picked up, for sure!. I think RoseBlood is worth a try, especially if you're a fan of the author's writing.
Would I recommend it?:
It's not for me!- 2.5 stars- I found it a bit slow and strange in places…
Sadly, this book didn't work for me!