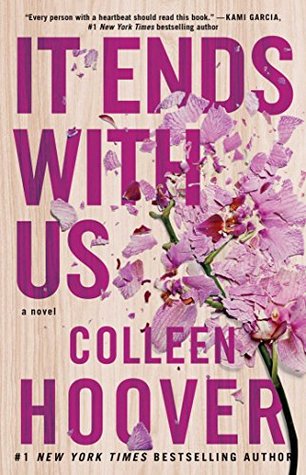 How did I get it?:
I bought it!
Previously reviewed by the same author:
Slammed series
Hopeless duology 
Standalones
Synopsis:
Lily hasn't always had it easy, but that's never stopped her from working hard for the life she wants. She's come a long way from the small town in Maine where she grew up – she graduated from college, moved to Boston, and started her own business. So when she feels a spark with a gorgeous neurosurgeon named Ryle Kincaid, everything in Lily's life suddenly seems almost too good to be true.
Ryle is assertive, stubborn, and maybe even a little arrogant. He's also sensitive, brilliant, and has a total soft spot for Lily, but Ryle's complete aversion to relationships is disturbing.
As questions about her new relationship overwhelm her, so do thoughts of Atlas Corrigan – her first love and a link to the past she left behind. He was her kindred spirit, her protector. When Atlas suddenly reappears, everything Lily has built with Ryle is threatened.
Thoughts:
As you can see, I've read a lot of Colleen Hoover's books. I really enjoy her writing and find them easy to devour in no time at all. I was starting to think that Colleen's books were getting a bit same-y (I still read them though!) so I was happy (seems the wrong word to use for this subject matter!) to read something a little different from Colleen. It Ends With Us contains some extremely heavy subject matter and some more adult characters.
I didn't read a lot about It Ends With Us before I picked up the book. I tend to avoid reviews before I've read a book because I don't want it to spoil the story. I don't actually want to say much about the content of this book because I think it's better not knowing about it before jumping in. If you do know, then I'd still urge you to read this book because I think it's important. It certainly made an impact on me.
It Ends With Us begins with Lily Bloom meeting the highly attractive, if a little arrogant Ryle. Lily has an immediate attraction to him, but doesn't think she'll see him again. Lily is still very much thinking of Atlas, a homeless boy from her past. Through Lily's letters to Ellen DeGeneres (that were never sent) we find out about Atlas and also secrets from Lily's past.
It Ends With Us is definitely darker than you might expect. It may look like a sweet love story, and sure, there are sweet moments, but it's a much darker story than I ever anticipated. There were several moments throughout the story that I found it hard to keep reading. I found Lily frustrating, I found Ryle frustrating. I just wanted to reach into the book and tell the characters a few home truths. I love that I felt passionately about the characters. I felt such a range of emotions throughout this story. I didn't know how it was going to end.
This book is totally different to Colleen Hoover's other books. It does feel like a step in another direction. I found it to be a harrowing, but important read. I was swept away with the story and for once, didn't find it predictable.
Would I recommend it?:
Of course!
A raw, important story. Unexpected!