Welcome to the 36th Banned Books post which means we've been reading Banned Books for 3 years now! Awoohoo! Go us! Celebrations aside, this month we took on Saga: Volume 2 by Brian Vaughan and Fiona Staples.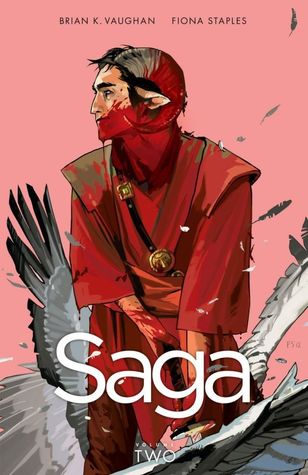 First published: 2013
In the Top Ten most frequently challenged books in 2014 (source)
Reasons: anti-family, nudity, offensive language, sexually explicit and unsuited for age group.
Do you understand or agree with any of the reasons for the book being challenged when it was originally published?
BETH: As a relatively recent release my answers for this and the next question are going to be pretty much the same. This month, like last month we're looking at a book where the focus is mainly on illustrations with few words in comparison. UNLIKE last month, this graphic novel is very, very different. Let me get this straight. I don't agree with banning or challenging books on any level. I love to get angry about why books are challenged/banned especially when the reasons for doing so are just damn stupid but you know when you read something and you can kind of see why some people might have had issues or been offended? This is the wonderful world of Saga. It doesn't offend me at all (I'm not easily offended!) but I have been slightly taken aback at some of the images, although I must insist that the art is absolutely stunning and something I can look at for a long time (erm…perhaps unless it's a very naked, quite terrifying giant monster).
CHRISSI: I actually laughed out loud at Beth's comment about the naked, giant monster as I nearly took a picture of it to send to her as I was reading it. I agree that it's easy to see why Saga is challenged. There's some quite graphic pictures and some very strong language. I don't think you'd expect that when you pick it up, if you go into it not knowing the controversy surrounding it. I'd totally agree that it has some beautiful images though. The illustrations are stunning… it's just not for the easily offended (or children!)
How about now?
BETH: Most of the reasons for challenging Saga are completely correct, I hate to admit. Yes, it has explicit sexual content, nudity and offensive language. However, I don't really agree with the anti-family message. Our two main characters have a small baby, Hazel and are very much together even though they are all "on the run." Plus in this volume, the grandparents come into play which does show quite a strong family unit, especially when I consider the role of the grandfather in this volume. Also, unsuited for age group. Hmm. Well, it just depends where you make this graphic novel available to be perfectly honest! If it's in the primary school library that's a different kettle of fish entirely and completely inappropriate I agree. But if it's in the local library adult section for teenagers to find for themselves I don't think that's too terrible.

CHRISSI: I understand why it's challenged. I do. I don't like admitting that, but I do understand why it is offensive to many. I think there should be the opportunity for it to be found in the right places. Like Beth said, a local library would be fine but in a education setting…not so much!
What did you think of this book?:
BETH: We looked at the first volume of Saga in our Banned Books for 2016 – please find our post HERE. It had been a while since I read the first six chapters so I did re-read them before embarking on Volume Two and I remembered just why I enjoyed it the last time. As I mentioned before, the art is simply gorgeous and really intricate but the story is also intriguing and makes me want to keep on reading. I'll certainly be continuing the series and am looking forward to Volume Three!
CHRISSI: Unlike Beth, I didn't reread the first volume. I went into it cold and luckily remembered a lot from the previous volume. I really enjoyed this volume, possibly more than the first. The artwork is beautiful and I'm intrigued by the story. I can totally see why so many readers are lapping up this series of graphic novels.
Would you recommend it?:
BETH: Of course!
CHRISSI: Of course!