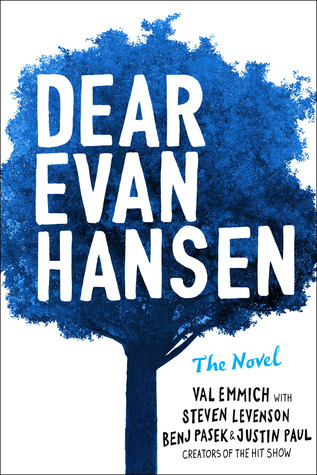 How did I get it?:
I bought it!
Synopsis:  
Dear Evan Hansen,
Today's going to be an amazing day and here's why…
When a letter that was never meant to be seen by anyone draws high school senior Evan Hansen into a family's grief over the loss of their son, he is given the chance of a lifetime: to belong. He just has to stick to a lie he never meant to tell, that the notoriously troubled Connor Murphy was his secret best friend.
Suddenly, Evan isn't invisible anymore–even to the girl of his dreams. And Connor Murphy's parents, with their beautiful home on the other side of town, have taken him in like he was their own, desperate to know more about their enigmatic son from his closest friend. As Evan gets pulled deeper into their swirl of anger, regret, and confusion, he knows that what he's doing can't be right, but if he's helping people, how wrong can it be?
No longer tangled in his once-incapacitating anxiety, this new Evan has a purpose. And a website. He's confident. He's a viral phenomenon. Every day is amazing. Until everything is in danger of unraveling and he comes face to face with his greatest obstacle: himself.
Thoughts:
I have heard so much about Dear Evan Hansen. It seems that it's been everywhere. I know that performances starts today in London. I have to admit that apart from Hugh Jackman singing a song from it on his world tour, I haven't heard the music from the musical yet.
I went into reading Dear Evan Hansen without knowing much about it at all. I think this was the best way to read it for someone who may not see the show or know much about it. I can't give you a comparison to the production because I haven't seen it. However, as a book, I enjoyed reading it and thought it had incredibly well developed characters.
The basic premise of this book is that Evan Hansen (who has severe anxiety) seems to be invisible at school. After breaking his arm, his mother encourages him to get signatures on his cast- to get out there and to speak to his peers. Whilst going through this, Evan is attending therapy. He's told to write letters to himself to become more positive. Evan's letter is picked up by Connor Murphy so misinterprets it. Connor signs his name in big across Evan's cast, truly making his mark. However, Evan never anticipated just how much of a mark Connor would make on his life.
Connor commits suicide and when Connor's parents find the letter 'Dear Evan Hansen' they believe that Connor and Evan were good friends. Evan soon ends up tangled in lies as he tries to help the Murphy family with their grief.
There are points of this story that are so hard to read. I'm pleased this story exists though because we need to be talking about mental health. It shouldn't be something that is hidden. I think this book would appeal to many readers- not just a YA or musical theatre audience. I think many people could and should take something away from this story.
Would I recommend it?:
Yes! 3.5 stars
A brilliant read surrounding mental health!