This feature is going to showcase some recent reads that I haven't fully reviewed. This may be because I didn't finish the book or that I didn't have enough to say to warrant a full and fair review of a book that I'm sure others will absolutely adore. I figure this way the books will be highlighted and someone somewhere might find the right book for them!

(BOOK IMAGES GO TO GOODREADS)
Eve- Anna Carey
Where do you go when nowhere is safe?
Sixteen years after a deadly virus wiped out most of Earth's population, the world is a perilous place. Eighteen-year-old Eve has never been beyond the heavily guarded perimeter of her school, where she and two hundred other orphaned girls have been promised a future as the teachers and artists of the New America. But the night before graduation, Eve learns the shocking truth about her school's real purpose and the horrifying fate that awaits her.
Fleeing the only home she's ever known, Eve sets off on a long, treacherous journey, searching for a place she can survive. Along the way she encounters Arden, her former rival from school, and Caleb, a rough, rebellious boy living in the wild. Separated from men her whole life, Eve has been taught to fear them, but Caleb slowly wins her trust… and her heart. He promises to protect her, but when soldiers begin hunting them, Eve must choose between true love and her life.
 The Pledge- Kimberly Derting
In the violent country of Ludania, the classes are strictly divided by the language they speak. The smallest transgression, like looking a member of a higher class in the eye while they are speaking their native tongue, results in immediate execution. Seventeen-year-old Charlaina has always been able to understand the languages of all classes, and she's spent her life trying to hide her secret. The only place she can really be free is the drug-fueled underground clubs where people go to shake off the oppressive rules of the world they live in. It's there that she meets a beautiful and mysterious boy named Max who speaks a language she's never heard before . . . and her secret is almost exposed.
Charlie is intensely attracted to Max, even though she can't be sure where his real loyalties lie. As the emergency drills give way to real crisis and the violence escalates, it becomes clear that Charlie is the key to something much bigger: her country's only chance for freedom from the terrible power of a deadly regime.
 The Darkest Minds- Alexandra Bracken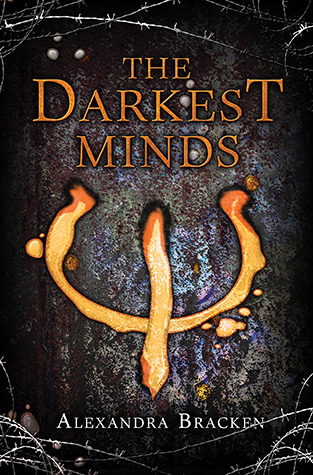 When Ruby woke up on her tenth birthday, something about her had changed. Something alarming enough to make her parents lock her in the garage and call the police. Something that gets her sent to Thurmond, a brutal government "rehabilitation camp." She might have survived the mysterious disease that's killed most of America's children, but she and the others have emerged with something far worse: frightening abilities they cannot control.
Now sixteen, Ruby is one of the dangerous ones.
When the truth comes out, Ruby barely escapes Thurmond with her life. Now she's on the run, desperate to find the one safe haven left for kids like her—East River. She joins a group of kids who escaped their own camp. Liam, their brave leader, is falling hard for Ruby. But no matter how much she aches for him, Ruby can't risk getting close. Not after what happened to her parents.
When they arrive at East River, nothing is as it seems, least of all its mysterious leader. But there are other forces at work, people who will stop at nothing to use Ruby in their fight against the government. Ruby will be faced with a terrible choice, one that may mean giving up her only chance at a life worth living.
Our Endless Numbered Days- Claire Fuller
1976: Peggy Hillcoat is eight. She spends her summer camping with her father, playing her beloved record of The Railway Children and listening to her mother's grand piano, but her pretty life is about to change.
Her survivalist father, who has been stockpiling provisions for the end which is surely coming soon, takes her from London to a cabin in a remote European forest. There he tells Peggy the rest of the world has disappeared. And so her life is reduced to a piano which makes music but no sound, a forest where all that grows is a means of survival. And a tiny wooden hut that is Everything.
Peggy is not seen again for another nine years.
1985: Peggy has returned to the family home. But what happened to her in the forest? And why has she come back now?
Mind Games- Teri Terry
Luna is a no-hoper with a secret: in a world of illusion, she can see what is real. But can she see the truth before it is too late?
Luna has always been able to exist in virtual and real worlds at the same time, a secret she is warned to keep. She hides her ability by being a Refuser: excluded by choice from the virtual spheres others inhabit. But when she is singled out for testing, she can't hide any longer.
The safest thing to do would be to fail, to go back to a dead-end life, no future. But Luna is starting to hope for something better, and hope is a dangerous thing…
Please remember that not all of these books were DNF. Some I just didn't have enough to say about them! If you've reviewed/loved these books-feel free to leave a link to your post! 🙂 It's always interesting to read differing opinions.