This feature is going to showcase some recent reads that I haven't fully reviewed. This may be because I didn't finish the book or that I didn't have enough to say to warrant a full and fair review of a book that I'm sure others will absolutely adore. I figure this way the books will be highlighted and someone somewhere might find the right book for them!
(BOOK IMAGES GO TO GOODREADS!)
Good At Games- Jill Mansell
Synopsis:
Suzy fell for Harry the moment she showed him her husband's sperm sample. It didn't really belong to her husband, though, because she wasn't married. It wasn't a sperm sample either, it was a drinks carton containing the dregs of her milkshake. But when you're trying to get off a speeding charge you just have to improvise, don't you? And it wasn't actually love at first sight. Still, it was undeniably a healthy attack of lust. And it might just be the beginning of something special…
The Marble Collector- Cecelia Ahern
Synopsis:
When Sabrina Boggs stumbles upon a mysterious collection of her father's possessions, she discovers a truth where she never knew there was a lie. The familiar man she grew up with is suddenly a stranger to her.
An unexpected break in her monotonous daily routine leaves her just one day to unlock the secrets of the man she thought she knew. A day that unearths memories, stories and people she never knew existed. A day that changes her and those around her forever.
The Marble Collector is a thought-provoking novel about how the most ordinary decisions we make can have the most extraordinary consequences for how we live our lives. And how sometimes it's only by shining on a light on someone else, that you can truly understand yourself.
Linger- Maggie Stiefvater
Synopsis:
Once Grace and Sam have found each other, they know they must fight to stay together. For Sam, this means a reckoning with his werewolf past. For Grace, it means facing a future that is less and less certain.
the loss.
Into their world comes a new wolf named Cole, whose past is full of hurt and danger. He is wrestling with his own demons, embracing the life of a wolf while denying the ties of being a human.
the linger.
For Grace, Sam, and Cole, life a constant struggle between two forces–wolf and human–with love baring its two sides as well. It is harrowing and euphoric, freeing and entrapping, enticing and alarming. As their world falls apart, love is what lingers. But will it be enough?
The Doubt Factory- Paolo Bacigalupi
Synopsis:
Everything Alix knows about her life is a lie. At least that's what a mysterious young man who's stalking her keeps saying. But then she begins investigating the disturbing claims he makes against her father. Could her dad really be at the helm of a firm that distorts the truth and covers up wrongdoing by hugely profitable corporations that have allowed innocent victims to die? Is it possible that her father is the bad guy, and that the undeniably alluring criminal who calls himself Moses–and his radical band of teen activists–is right? Alix has to make a choice, and time is running out, but can she truly risk everything and blow the whistle on the man who loves her and raised her?
Passenger- Alexandra Bracken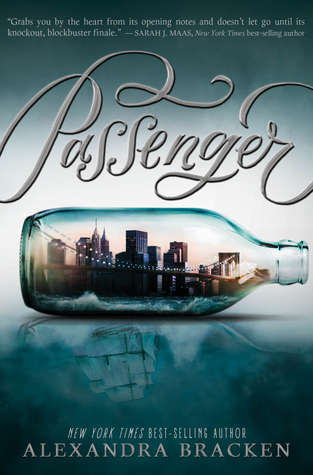 Synopsis:
Passage, n.
i. A brief section of music composed of a series of notes and flourishes.
ii. A journey by water; a voyage.
iii. The transition from one place to another, across space and time.
In one devastating night, violin prodigy Etta Spencer loses everything she knows and loves. Thrust into an unfamiliar world by a stranger with a dangerous agenda, Etta is certain of only one thing: she has traveled not just miles but years from home. And she's inherited a legacy she knows nothing about from a family whose existence she's never heard of. Until now.
Nicholas Carter is content with his life at sea, free from the Ironwoods—a powerful family in the colonies—and the servitude he's known at their hands. But with the arrival of an unusual passenger on his ship comes the insistent pull of the past that he can't escape and the family that won't let him go so easily. Now the Ironwoods are searching for a stolen object of untold value, one they believe only Etta, Nicholas' passenger, can find. In order to protect her, he must ensure she brings it back to them—whether she wants to or not.
Together, Etta and Nicholas embark on a perilous journey across centuries and continents, piecing together clues left behind by the traveler who will do anything to keep the object out of the Ironwoods' grasp. But as they get closer to the truth of their search, and the deadly game the Ironwoods are playing, treacherous forces threaten to separate Etta not only from Nicholas but from her path home… forever.
Have you read any of these books? Let me know your thoughts! It's fun to discuss.