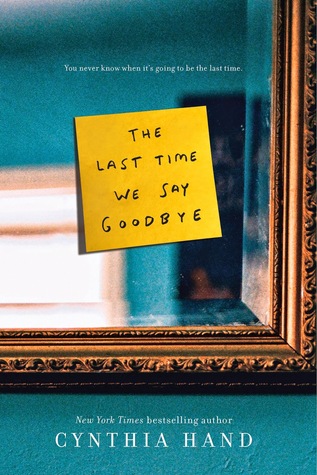 How did I get it?:
I bought it!
Previously reviewed by the same author:
Unearthly
Hallowed
Boundless
Synopsis:
There's death all around us.
We just don't pay attention.
Until we do.
The last time Lex was happy, it was before. When she had a family that was whole. A boyfriend she loved. Friends who didn't look at her like she might break down at any moment.
Now she's just the girl whose brother killed himself. And it feels like that's all she'll ever be.
As Lex starts to put her life back together, she tries to block out what happened the night Tyler died. But there's a secret she hasn't told anyone-a text Tyler sent, that could have changed everything.
Lex's brother is gone. But Lex is about to discover that a ghost doesn't have to be real to keep you from moving on.
From New York Times bestselling author Cynthia Hand, The Last Time We Say Goodbye is a gorgeous and heart-wrenching story of love, loss, and letting go.
Thoughts:
I was so excited when I found out that Cynthia Hand was having another book published. I absolutely devoured the Unearthly trilogy. I was also intrigued to see if her contemporary writing was as fabulous as the paranormal! I thoroughly enjoyed The Last Time We Say Goodbye, and even though it was a heavy read, it was also completely engrossing and heart breaking at the same time.
This book centres around Lex and her family. Lex used to be incredibly content in her life. She had every reason to be. Her family was lovely, she had a great boyfriend but suddenly everything was turned around for her, she became the girl whose brother committed suicide. Lex wants to move on with her life, but she can't, as a secret from the night her brother killed himself is tearing her apart. She worries that she could have changed the terrible ordeal that her family are suffering from and she doesn't know how she'll ever move on from it.
The Last Time We Say Goodbye is an incredibly emotional, moving read. Right from the beginning, I sympathised with the pain that Lex and her family were going through. It's incredibly heavy, but so well written. You really believe every emotion that's being experienced by the characters. There were so many questions to be answered throughout the book, and I truly believe that Cynthia Hand did a brilliant job at addressing the many sensitive issues in Lex's life.
Some of the story is told through diary entries that Lex does for her therapy sessions. I really enjoyed this part of the story, because it felt very raw and real. We got flashbacks from the past and an understanding of what her brother was like. I thoroughly enjoyed reading this book despite its heaviness. It's incredibly realistic. I can't recommend it highly enough.
Would I recommend it?:
Of course!
A beautiful, moving, realistic story of what happens to those left behind after someone takes their own life.