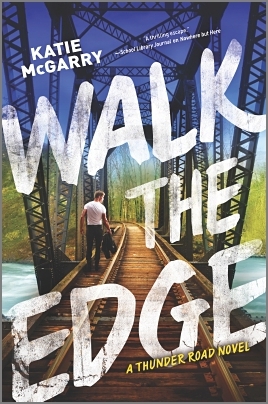 How did I get it?:
I bought it!
Previously reviewed by the same author:
Pushing The Limits
Thunder Road 
Synopsis:
Smart. Responsible. That's seventeen-year-old Breanna's role in her large family, and heaven forbid she put a toe out of line. Until one night of shockingly un-Breanna-like behavior puts her into a vicious cyber-bully's line of fire—and brings fellow senior Thomas "Razor" Turner into her life.
Razor lives for the Reign of Terror motorcycle club, and good girls like Breanna just don't belong. But when he learns she's being blackmailed over a compromising picture of the two of them—a picture that turns one unexpected and beautiful moment into ugliness—he knows it's time to step outside the rules.
And so they make a pact: he'll help her track down her blackmailer, and in return she'll help him seek answers to the mystery that's haunted him—one that not even his club brothers have been willing to discuss. But the more time they spend together, the more their feelings grow. And suddenly they're both walking the edge of discovering who they really are, what they want, and where they're going from here.
Thoughts:
I was really excited to start Walk The Edge. As you can tell from my previously reviewed section, I'm quite the fan of Katie McGarry's work. I find her writing utterly addictive and whilst the plot can sometimes be a little far fetched it's wonderful all the same.  I didn't get on with Walk The Edge as much as I wanted to, but it was an enjoyable read nevertheless.
Prior to  Nowhere But Here I would've never considered reading a book centred around a motorcycle club, but Katie truly makes it work. This is partly down to the fantastic characters that Katie creates. I absolutely adored Breanna. She's an incredibly easily to love character. Breanna is part of a huge family. She's left to the sidelines and expected to look after her younger siblings. Breanna is bright and mature. I really felt for her. Her life wasn't simple and there was so much expectation on her.
Breanna and Razor were a great couple. Razor certainly had his own issues going on, but I loved his geunine adoration for Breanna. They were a lovely couple. The reason why I didn't rate this book even higher was because of Breanna's family! They just really irritated me with their lack of interest in their daughter and their expectations for her. I do think that this book will entertain many

Would I recommend it?:
Yes!
A good addition to the Thunder Road series.