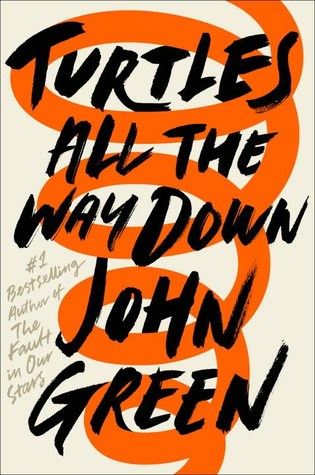 How did I get it?:
I bought it!
Previously reviewed by the same author:
Synopsis:
Sixteen-year-old Aza never intended to pursue the mystery of fugitive billionaire Russell Pickett, but there's a hundred-thousand-dollar reward at stake and her Best and Most Fearless Friend, Daisy, is eager to investigate. So together, they navigate the short distance and broad divides that separate them from Russell Pickett's son, Davis. Aza is trying. She is trying to be a good daughter, a good friend, a good student, and maybe even a good detective, while also living within the ever-tightening spiral of her own thoughts.
Thoughts:
I went into this book with low expectations. You might think that I'm a John Green fan, if you look at my previously reviewed section. I'm not a massive fan. I'm just trying to make myself 'get' him like so many of my blogging friends. I've come to realise that I can appreciate John Green's writing, but I'll never be his biggest fan. That being said, I did really enjoy Turtles All The Way Down. If 'enjoy' is really the right word. It is an intense look at mental health that did make me tear up at times.
Don't expect to go into this book with a plot that is massively exciting and fast-paced. Turtles All The Way Down is definitely a character driven, slow moving plot. It's about Aza and her friend Daisy. They are intrigued by the disappearance of an old friend's (Davis) father. Alongside that plotline, Aza is trying to be good. She's trying to be a good daughter, friend, student and find the answers for Davis and his brother Noah. She's also coping with crippling mental health issues.
A character driven novel has to have characters that you can root for. You just find yourself getting very bored otherwise. Aza struggles with her mental health. This book really delves into that. It doesn't sugar coat anything at all. Aza's tale is to the point and so believable that I actually found myself feeling incredibly uncomfortable with some of her decisions. I could see her spiralling out of control page after page and I wanted to reach into the book and comfort her. I also really loved Daisy, Aza's best friend. It was interesting to read about her perception of Aza's anxiety.
The reason why I didn't give this book 4 stars is because I felt a little put off by the plotline of Davis and his brother Noah's missing father. I didn't think it really added much to the story and actually took away from the importance/message that I believe it was trying to portray. I also didn't really buy into the romance.
Please don't let the fact that I rated this 3.5 stars put you off. I think so many people are going to love this book. I expected to dislike it and I was pleasantly surprised. Just be aware that it is definitely a raw, real look into mental health.
Would I recommend it?:
Yes! 3.5 stars
As someone that doesn't worship John Green, I was pleasantly surprised by this book!