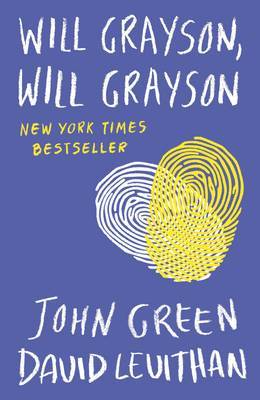 How did I get it?:
I bought it!
Previously read by the same authors:
John Green:
David Levithan:
Synopsis:
One cold night, in a most unlikely corner of Chicago, two strangers cross paths. Two teens with the same name, running in two very different circles, suddenly find their lives going in new and unexpected directions, culminating in heroic turns-of-heart and the most epic musical ever to grace the high-school stage.
Thoughts:
I have had this book for the longest time, but if I'm honest, I was a little put off from reading it. This is mainly because I've had some problems with John Green books. Now, don't get me wrong, I think he's a decent enough writer. I just don't get all of the hype surrounding his books. I've read a lot of them now and I think they're okay- just not outstanding like many other readers seem to feel. It's just personal preference I guess. Each to their own. David Levithan is what pulled me to this book. I absolutely adore David Levithan's writing and I'm working my way through his books. There's something about David's writing that pulls me in.
Will Grayson, Will Grayson is narrated by two different boys named Will Grayson. Our first Will Grayson (narrated by John Green) is best friends with a guy named Tiny Cooper. He may be called Tiny, but he's anything but tiny. He's a bigger guy and definitely has a larger than life personaility. John's Will Grayson has all kinds of girl drama because he's trying to avoid girl drama…consquently making quite the drama over drama. I could tell from the start that this Will Grayson was written by John Green as his writing style is incredibly identifiable. I have to admit, that I actually really enjoyed John Green's Will Grayson!
Now for the other Will Grayson. Ahhh David Levithan!<3 I thought I was going to hate David's Will Grayson because it was all written in lowercase. The teacher in me was screaming about using capital letters and capitalising 'I'. I quickly got over it though… because you know… David Levithan's writing is delicious. Can writing be delicious? Yes. Yes it can. After finishing the book, I read the interview that both authors gave and David explains that Will writes in lowercase because that's how he sees himself. I totally got that. This Will Grayson is a darker character. He's depressed. One day, Will Grayson comes across the other Will Grayson (*cough* in a porn shop *cough*) and this leads to him meeting Tiny Cooper. They later become a couple.
There is a great deal of romance throughout this book. It's full of relationship drama which I'm not usually a fan of, but it works so well in this story. The relationships feel real with relatable struggles. I also really enjoyed how this book was about friendship as well. It's a wonderfully witty story and I'm pleased I finally gave it a chance. This was certainly my favourite John Green book.
Would I recommend it?:
Of course!
A witty, engrossing read! I loved this book!