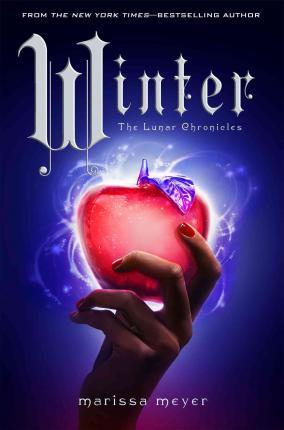 How did I get it?:
I bought it!
Previously reviewed by the same author:
Cinder
Scarlet
Cress
Fairest
Synopsis:
Princess Winter is admired by the Lunar people for her grace and kindness, and despite the scars that mar her face, her beauty is said to be even more breathtaking than that of her stepmother, Queen Levana.
Winter despises her stepmother, and knows Levana won't approve of her feelings for her childhood friend—the handsome palace guard, Jacin. But Winter isn't as weak as Levana believes her to be and she's been undermining her stepmother's wishes for years. Together with the cyborg mechanic, Cinder, and her allies, Winter might even have the power to launch a revolution and win a war that's been raging for far too long.
Can Cinder, Scarlet, Cress, and Winter defeat Levana and find their happily ever afters?
Thoughts:
I realise that not everyone is up to date with The Lunar Chronicles, so I'm going to try and keep this review as spoiler free (and therefore quite short!) as I can. Very tricky to do that with a fourth book in the series.
Winter is an incredibly long book at over 800 pages. Although I didn't feel like the story was ever dragging. There were definitely moments within the story that it was hard to put it down. The last 100 or so pages are incredibly action packed and left me wondering where the story was going to go.
I absolutely loved that we were reunited with Cinder, Scarlet, and Cress. I adored that we saw their relationships develop with their 'Princes'. I absolutely loved the relationships and Winter and Jacin are no exception. I think Marissa Meyer writes romances so well. I have rooted for every one of the relationships. Levana is fantastic in this book. So wonderfully wicked.
One slight negative that I have about this story, was that it felt it could be condensed a lot more. 800 pages + is mammoth!
Would I recommend it?
Of course!
A fantastic ending to The Lunar Chronicles! I loved it!