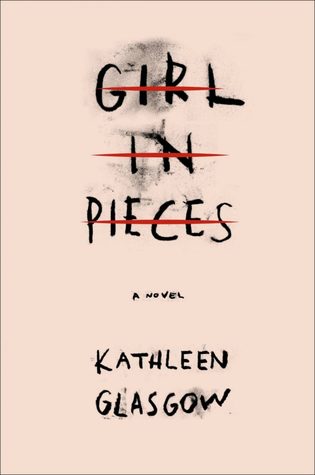 How did I get it?:
I bought it!
Synopsis:
Charlotte Davis is in pieces. At seventeen she's already lost more than most people lose in a lifetime. But she's learned how to forget. The broken glass washes away the sorrow until there is nothing but calm. You don't have to think about your father and the river. Your best friend, who is gone forever. Or your mother, who has nothing left to give you.
Every new scar hardens Charlie's heart just a little more, yet it still hurts so much. It hurts enough to not care anymore, which is sometimes what has to happen before you can find your way back from the edge.
Thoughts:
I knew that this book was going to be a heavy reading experience given its subject matter. It was incredibly tricky to read but so beautifully written. I would definitely give it a trigger warning because I can imagine it would affect many people if they have dealt with the issues raised in this book. Kathleen Glasgow's story is fantastic at representing realistically how tough it is to live with a mental illness. She did give a glimmer of hope for the character, which I appreciated amongst the darkness.
The story centre around Charlie who is in a bad place. She's only seventeen but has gone through a lot in her life. She self harms with glass to sooth her pain and feel calm. Each time Charlie cuts her heart gets a little harder. Charlie has to go through a lot to get her back to 'normal.'
Even though this book is marketed at the Young Adult market, it reads like a lot older. I know teenagers/young adults do struggle with their mental health so it's not the subject matter, it's the general feel of it and lack of young adults in the story. Charlie is the only young adult in the story! Even the romantic interest is much older than Charlie.
I struggled a little with the pace of this book. I am usually gripped by books about mental health but this one felt like a chore to get through. There were moments of brilliance which I really appreciated and I felt like some phrases were incredibly relatable. I did appreciate how Charlie wasn't a perfect character. She kept on making terrible decisions. Life wasn't instantly easy for her and that's real life. I do think this is a good book and an important story, it's just not one that particularly stood out for me.
Would I recommend it?:
Yes!
Beautifully written, if a little slow!